Plastic-Free Kitchen: 11 Simple Ways To Make Your Kitchen Plastic-Free
A plastic free kitchen is important for a sustainable, eco-friendly, and, above all, healthy life. Why? Because plastic is particularly harmful to our health when it comes into contact with food, especially hot food. Plastic, therefore, has no place in the kitchen.
Here are ten tips on how to make your kitchen plastic free, sustainable, and healthy. 

1. A plastic-free water filter
Obviously, plastic water bottles should be the first thing to be banned from your kitchen. Tap water is much cheaper, healthier, and more sustainable, but, although it is regularly checked for contaminants, it can still contain trace chemicals, nitrites and heavy metals. A good filter removes 99.99 percent of all chemicals from your water. I rounded up a list of the best plastic-free water filters here.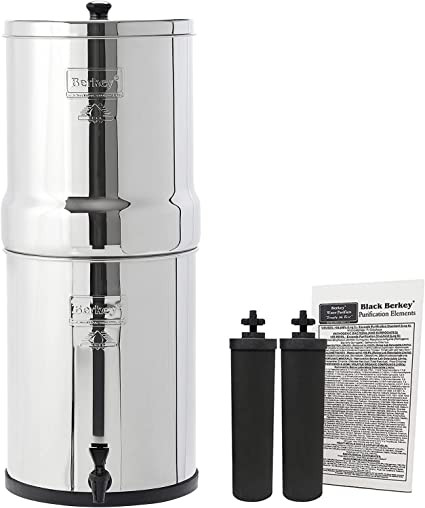 A stainless steel water filter removes up to 99.99 percent of chemicals
2. A kettle made of glass or stainless steel
Are you still using a plastic kettle? If so, this should be the first thing to go from your kitchen. A kettle's sole purpose is to constantly heat up water to 100 °C (212 °F), a temperature that plastic cannot withstand. The surface becomes porous and releases BPA and phthalates into the water every time it boils. This means that each time you brew your tea with a plastic kettle, there are chemical toxins in it. Yuck!
3. Buy loose tea
And speaking of tea, did you know that many tea bags contain plastic? Yes, you heard me right. Just like the kettle, the boiling water flushes chemical additives from the plastic into the tea. This also means that tea bags are not biodegradable and do not belong in the compost.
If you choose to buy organic loose tea instead, you can be sure that your tea is as healthy as it should be.

4. A Stainless Steel Coffee Pod
From tea to coffee. Of course, most coffee machines are made of plastic. And since we live in a very convenience-driven society, many people nowadays choose capsule machines that require you to use an aluminum or plastic capsule every time you brew your coffee. Nespresso alone produced an incredible 4.8 trillion coffee capsules last year!
You can avoid all this trash by buying a reusable stainless steel coffee pod, for example the Evergreen Capsules. It can be filled with the ground coffee of your choice and fits all standard Nespresso machines. No waste, 100% coffee enjoyment.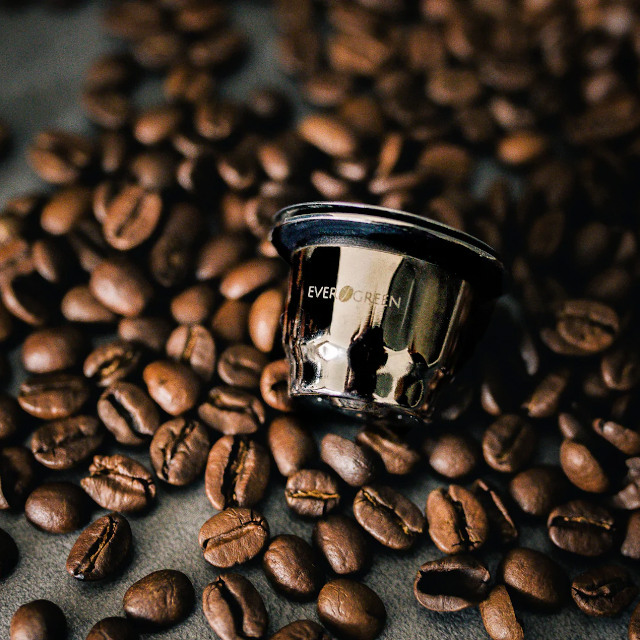 he Evergreen coffee pods are sustainable and fit every Nespresso machine. Photo: ©evergreen-capsules.com
5. Beeswax Wraps
Aluminum foil and cling film should be next to disappear from your kitchen. Cling film is not recyclable and almost always ends up in the incinerator or in landfills. Aluminum foil is technically recyclable, but many recycling companies will not accept the lightweight foil, especially if there are food scraps stuck to it.
Instead, I recommend a set of reusable beeswax food wraps. With good care, they can last for years and you never have to buy single-use, and, in the long run, much more expensive cling film or tin foil again. Beeswax wraps do a great job of keeping your food fresh. The wax has antibacterial properties, so you can use them to wrap fruit, vegetables, salad, your daily lunch sandwich or dinner leftovers - anything really, except raw fish or meat.
After use, simply wash in lukewarm water and let dry. Do not use hot water, this would melt the wax layer. By the way, there is now also a vegan wax alternative.

6. Sustainable Food Storage Containers
Again, anything in the kitchen that comes in contact with food (especially hot food) should be plastic free. Replace the plastic Tupperware storage containers with glass or, better yet, stainless steel ones. Glass vessels look great, but rarely have an airtight lid, and not all can be put in the freezer. Steel containers can be tightly sealed and frozen.
Food staples, such as rice, pasta, grains, and pulses can be stored in used jam or honey jars.
Also read my post about plastic-free food storage. 

7. High-Quality Cooking Utensils
Do you still have plastic cooking spoons and salad servers in the house? I recently saw a whisk beater with a plastic end in a friend's kitchen. The plastic part was already so frayed from hot food and years of use that tiny little pieces kept coming off. These all end up in your food! Say goodbye to plastic cooking utensils and buy high-quality wood and stainless steel ones once and for all.

8. A Hemp Kitchen Sponge
The yellow-green kitchen sponges you find in every household are plastic, and there are two problems with that: first, they are havens for bacteria. German scientists found up to 45 billion bacteria on one square centimeter of plastic sponge! And second, every time you use them, tiny particles come off and are washed down the drain. Since sewage filtration systems can't filter microplastics, these tiny particles end up in the sea, where they are eaten by animals.
Switch to hemp sponges instead. Hemp is a wonderful plant. It grows extremely fast, needs no pesticides and very little water. A hemp sponge is therefore naturally antibacterial, eco-friendly, sustainable, organic, and biodegradable. you can buy them here. 
9. Eco-friendly, Re
usable straws
Eco-friendly, reusable straws are a staple in any plastic-free kitchen. Whether you prefer bamboo, glass or stainless steel is up to you. Bamboo feels natural and exotic, glass is elegant and stylish, stainless steel looks sleek and modern.
By the way, plastic straws, together with disposable tableware and cutlery, will be banned in the EU as of July this year, so it's high time you switch. 
10. 
Plastic-free washing-up liquid and dishwasher tablets
Finding eco-friendly washing-up liquid and dishwasher tablets is probably the biggest challenge of a plastic-free kitchen. Washing-up liquid mostly comes in plastic bottles, and dishwasher tabs are individually wrapped in plastic. In addition, they contain phosphates, which affect water quality and pose a threat to marine life.
You can try EcoLeaf dishwasher tablets. They are biodegradable, natural, and safe for the environment, free from phosphates, SLS, SLES, and parabens. The wrapper is water soluble.
If you are in the U.S., there is EcoVer, whose dishwasher powder is also plant-based and biodegradable. The packaging is made from recyclable cardboard.
Both also offer a plant-based washing-up liquid - in a plastic bottle. At least, it's 100% recycled and recyclable - and you can buy a 5l bulk container to save packaging.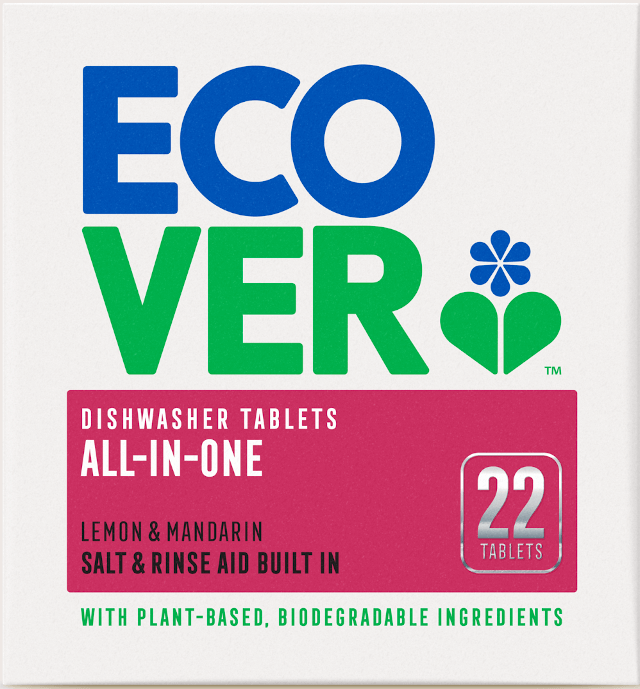 The EcoVer dishwasher tabs are plastic-free and safe for the environment. Photo: © www.ecover.com
11. Reusable Shopping bags
Thin plastic bags are one of the biggest environmental problems. They are used once, maybe twice, and then thrown away. And because they are so lightweight, they often end up in the environment where they wreak havoc on animals: whales are washed up with 60 or more plastic bags in their stomachs. Small fish get caught in them and starve to death. Turtles mistake them for jellyfish, their favorite food.
Try to avoid plastic bags. Instead, take a reusable one made from cotton, linen or jute to the supermarket.
Summary
Here you have it, my 11 tips for a plastic free kitchen. Do you want to add something? 
Let me know in the comments or write me a message here. I look forward to hearing from you. 

Making your kitchen plastic-free? Share your story!
Are you banning plastic from your kitchen? Great!
How did you start and what challenges do you encounter? What's your favorite plastic-free kitchen tool? Share your story, tips and photos!
---