Plastic Free Cleaning Products
The best plastic-free cleaning products of 2022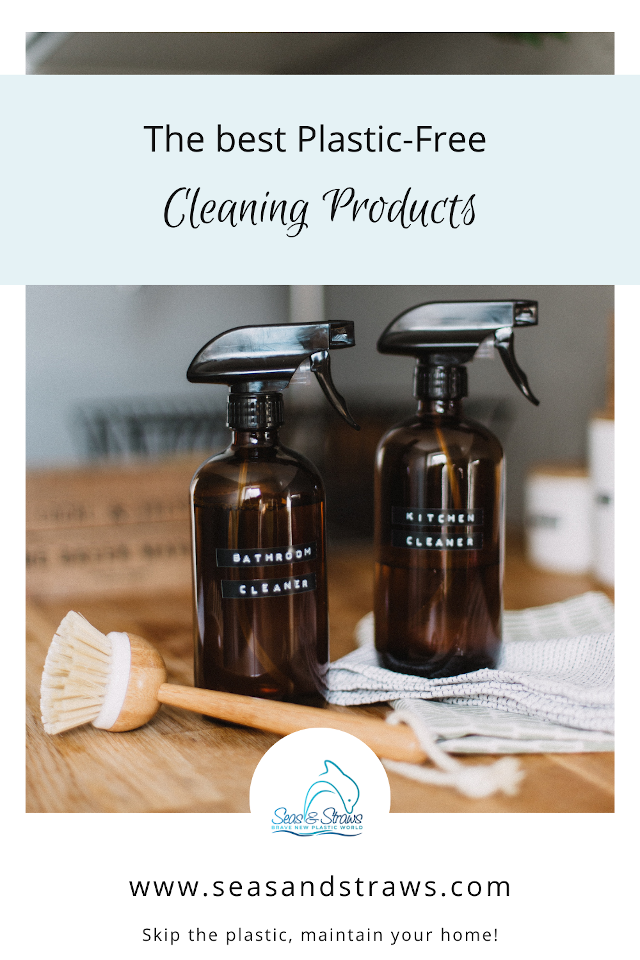 Cleaning products in our oceans alone is currently at over 250,000 tons of waste yet it's something that's barely spoken about - from the products themselves (that may contain microbeads, and other non-degradable plastics) to the packaging they come in, there's a lot to unpack here.
Making the switch to plastic-free cleaning products is another giant step to living a plastic-free life and reducing your eco-footprint. Let's take a look at what ways plastic invades our homes through cleaning products, the kind of plastics you should keep an eye out for, and my best plastic-free cleaning products for 2022!
What to avoid - plastics in packaging
These are fairly easy to spot - the plastic bottles and wrappers that your favorite products come in. These are rarely recycled, meaning they end up in landfill sites or worse - dumped in the ocean. These accumulate and end up destroying natural habitats, often harming animals as well.
Opt for plastic-free cleaning products that use eco-friendly packagings such as glass or biodegradable paper and choose to purchase in bulk to reduce packaging and keep your home plastic-free.
What to avoid - plastics in products
Certain cleaning products (liquids and solids) have plastic components which may be easy to miss if you don't know what to look out for. These chemicals go down our drains when cleaning our homes, where they end up in rivers and seas.
The biggest way plastics are sneaked into cleaning products is through products that contain microbeads or claim to polish/shine. Often they are made from different plastics with different names, making them hard to identify. Here are 5 common plastics to keep an eye out for and avoid:
polyethylene (PE)
polypropylene (PP)
polyethylene terephthalate (PET)
polymethyl methacrylate (PMMA)
nylon (PA)
What to choose - the best plastic free cleaning products
Now, to my favorite part! Here are my best plastic-free cleaning products to make the transition seamless.
1. The Unscented Co.

This brand is a top pick for plastic-free cleaning products for a couple of reasons.
Their products come in glass containers, refillable pouches, or as cardboard-packed solid bars. So once you're done, you can refill them with 2L, 4L, and 10L bulk formats, either in their store or at home. They are also unscented for all those sensitive to scents!
The dish and laundry tabs, for example, come with water-soluble pouches in recycled cardboard boxes.
The laundry detergent in particular is a favorite. It can also be used with cold water (less heat, less energy, fewer emissions). It's not plastic-free, but it's made from 25% post-consumer recycled plastic (PCR) and you can use it up to 78 times! When you run out, you simply refill it with a 4L or 10L box.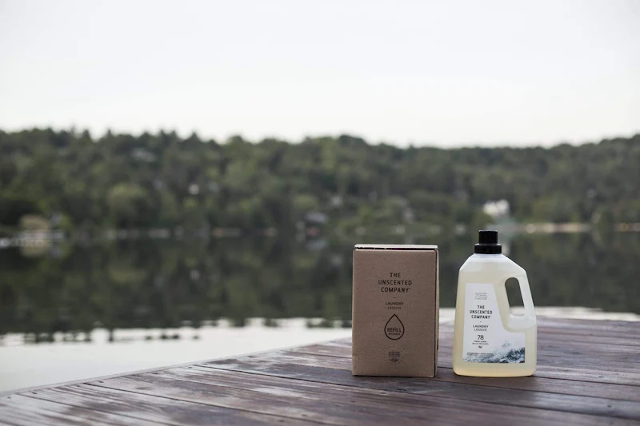 The Unscented Company's laundry detergent can be refilled uo to 78 times. Photo: ©unscentedco.com
2. The Peeled Pantry
Another great option. From personal care, bath & body, hair care, to kitchen & laundry products, Canadian-based The Peeled Pantry offer a wide range of plastic-free cleaning products. I found a lot of truly plastic-free, solid soap bars on their website. The rest of their cleaning and care products come in refillable glass containers. You can give the empty containers back and they clean, sanitize, and refill them. A truly circular option.
Plastic-free, refillable glass container at The Peeled Pantry. Photo: ©peeledpantry.ca
3. Cloud Paper Bamboo Paper Towels

We all need toilet paper, do we? But have we ever thought about where it comes from? Most toilet paper comes from rainforest trees! That's right!
Cloud paper toilet paper and paper towels are made from responsibly sourced bamboo, a double win! First, bamboo is a fast-growing plant, not a tree, so it doesn't involve cutting down trees that contribute to reducing our carbon footprint. And second, their toilet paper and paper towels are shipped in plastic-free, compostable packaging. Although this plastic-free cleaning product isn't the softest, it is absorbent and doesn't fall apart easily.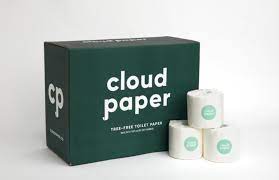 Toilet paper and paper towels made from fast-growing, sustainable bamboo. Photo: ©cloudpaper.co
4. Three Bluebirds Swedish Dishcloths
Fourth on my list for the best plastic-free cleaning products are these funny dishcloths! They are made of biodegradable cellulose, organic cotton, and water-based, non-toxic ink. You can wash them over 200 times (by hand or in a dishwasher), and when done, they decompose back into the earth. Imagine how many dishcloths and sponges you can keep from landfill!
The best part? Unlike traditional washcloths, they don't build up microorganisms to become smelly or mildewy. Although they biodegrade after a couple of months, they're one of the most durable options out there.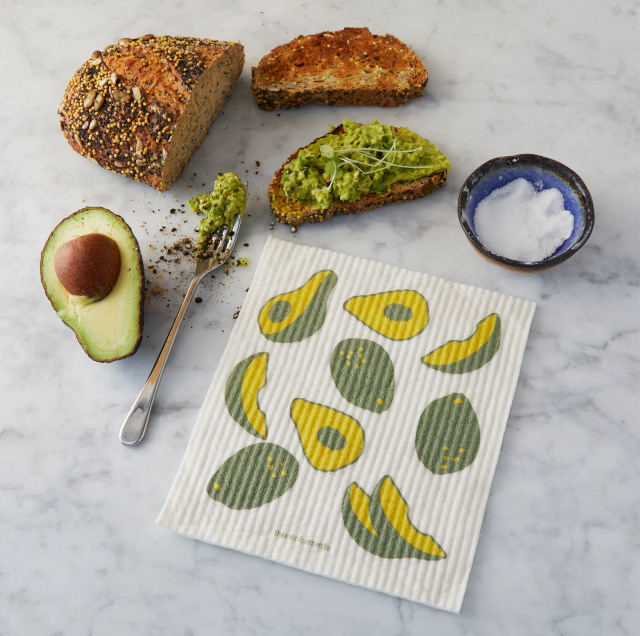 These dishcloths are made of cellulose and cotton, and can be washed 200 times. Photo: ©threebluebirds.com/
Which ones are you trying out? Share it with me on Twitter!