Plastic-free through the year - the weekly planner


IN 52 WEEKS TO A LIFE WITHOUT SINGLE-USE PLASTic



Tired of feeling overwhelmed by single-use plastics and unsure where to start your eco-conscious transformation? Look no further!
Introducing  Plastic-Free Through The Year - The Weekly Planner, your ultimate guide to a life without single-use plastics.
🍃 Step-by-Step Solutions: With weekly tasks and expert guidance, you'll effortlessly break free from plastic's convenience and embrace a healthier, eco-friendly lifestyle. I've done all the research, sourcing eco-alternatives and DIY recipes, so you don't have to. Get ready to create a home free of plastic waste, room by room, without breaking the bank.
📅 Plan Your Success: Each month brings essential insights on plastic pollution, cost-effective replacements, easy-to-make DIY products, and long-term investments that save money over time. Plus, enjoy the planner's sleek design, alternating colors for water, earth, and air, keeping you organized and inspired throughout your journey.
🌟 Elevate Your Impact: Imagine living a mindful, eco-conscious life, influencing your loved ones, and sparking conversations about environmental responsibility. As you adopt natural materials and non-toxic alternatives, you'll become an eco-warrior, inspiring others to join your path to environmentally conscious living.
🎯 Your Path to a Plastic-Free Future: No need to waste time searching for answers. This planner is your ultimate roadmap to sustainable living. Download the PDF, print it week by week, or create your custom planner for easy, on-the-go access. Whether on paper or screen, "Plastic-Free Through The Year" empowers you to make a positive impact and embrace a plastic-free lifestyle.
🛍️ Start Your Journey Today!
Don't wait for change – invest in a healthy, sustainable, and eco-minded future without plastic. Grab your planner now and embark on a year of meaningful transformation! Let's create a world where plastic pollution is history. Together, we'll lead the way to a cleaner, greener planet! 🌎🌿
In this planner you will learn
How to break away from the convenience of single-use plastics in our daily lives
How to live a live a more eco-conscious, healthy and decluttered lifestyle

How to make your whole house plastic-free, room by room, WITHOUT breaking the bank

How to implement simple changes weekly, even if you don't have much time

But that's not all!
You will also learn how to make your own household and cosmetic products with just a few natural and biodegradable ingredients and without much time and effort.

I make and use all the DIY products myself, and I love them. I haven't bought their conventional plastic-packaged counterparts for years and have saved hundreds, maybe thousands of dollars. Besides that, it's  empowering to know that you can make so many products yourself with so few ingredients, even if you don't have a lot of time.
Because I get it: you're a busy woman, maybe a mom, a wife. Your day is packed.
But guess what: if you do these suggested tasks every week, it will take you an hour at most - and you'll have a whole week to do it. Sometimes it requires no extra time at all. Sometimes it's just a small investment that you can incorporate into your next shopping trip.
Even the DIY recipes you'll find in this planner are all super easy to make and never take more than 30 minutes. For example, my toothpaste is so simple that it only takes 1 minute to put together. The same goes for my coffee scrub and deodorant. Making all the products in this planner in one day takes no more than an hour.
I, for instance, set aside an hour each month to make all of my products in one go. Many of the ingredients I have at home anyway, and I guarantee they are 100% effective and contain no toxic chemicals that will harm your body or the environment.
Here's what you'll get:
Each month is structured as follows:
Oh, and on top of it all, it's also a planner with enough space for your weekly tasks, priorities and notes.
I designed the planner in 3 alternating colors, with each month in a different color - blue for water, green earth and orange for air - to help you find your way around it.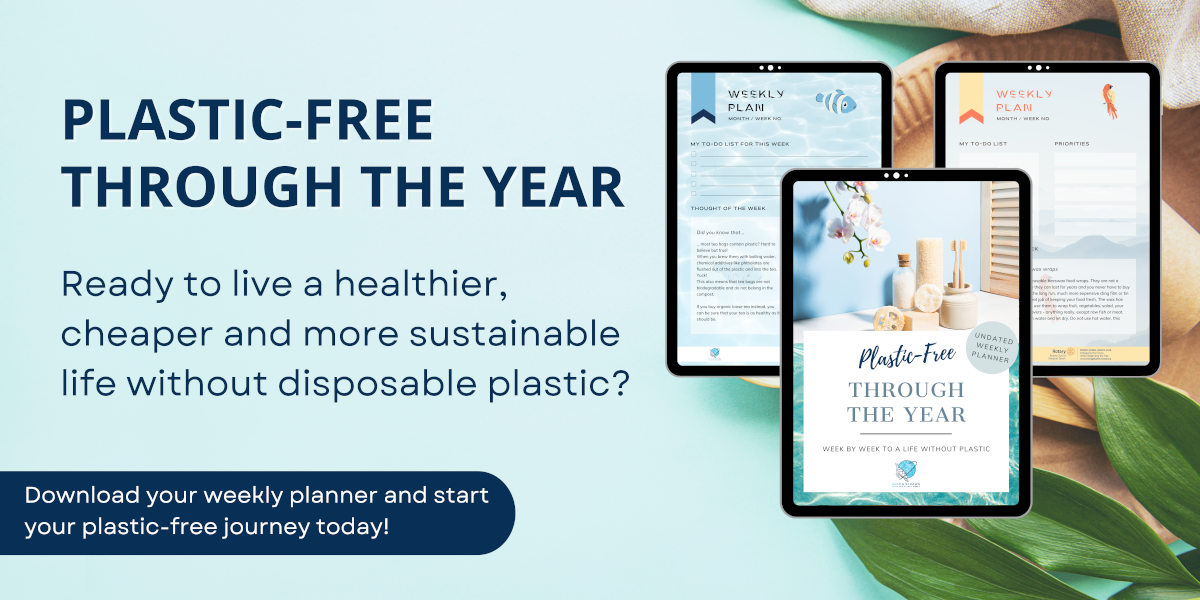 By the end of the year, you will be able to go through life more mindful and eco-conscious.
You will know where to shop, what

materials are healthy

and which

investments are worthwhile

.
You will live a

happier, healthier and more nature-based life

. You will have replaced artificial, petroleum-based products full of dangerous chemicals with safe, inert, natural materials.
You will even have gained the

knowledge

to educate your friends and family about the dangers of plastic products and plastic pollution, and convince them of your path to environmentally conscious living. You will spark conversations and become an eco-warrior. You will become a leader who inspires others.
Plastic-Free Through The Year 
will accompany you on Your journey for a whole year
It can be downloaded immediately as a PDF. You can either print it out week by week and pin it to your fridge, or print it in its entirety and bind it like a book (as shown in the photos below). That way, you can take it with you wherever you go.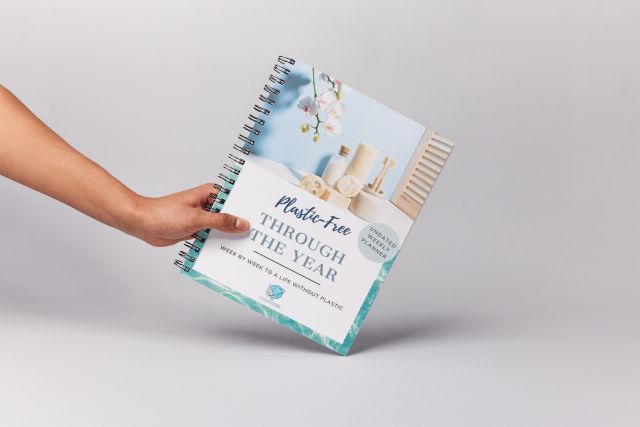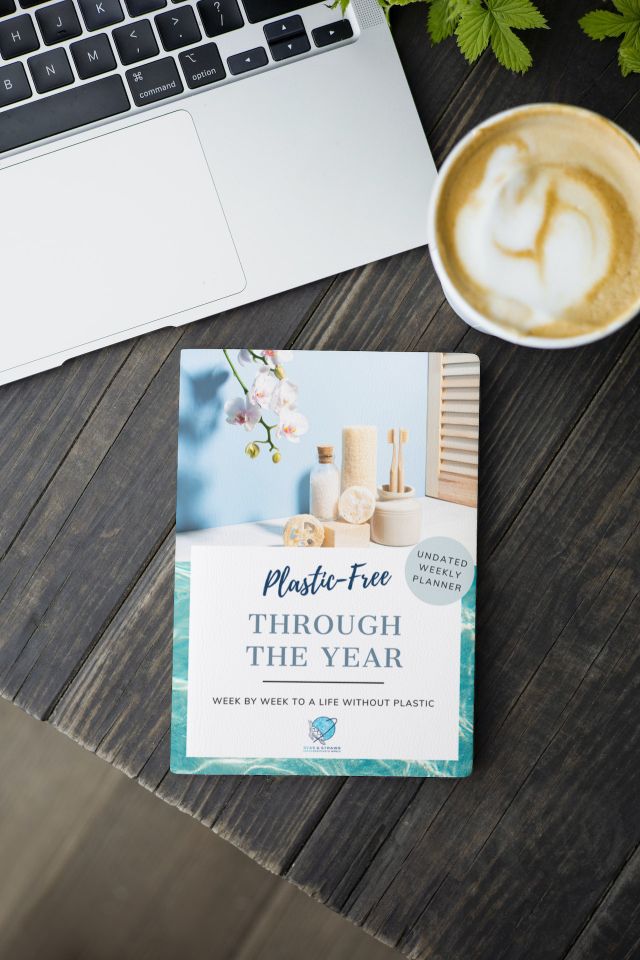 If you prefer working on a screen, just keep it on your computer or tablet.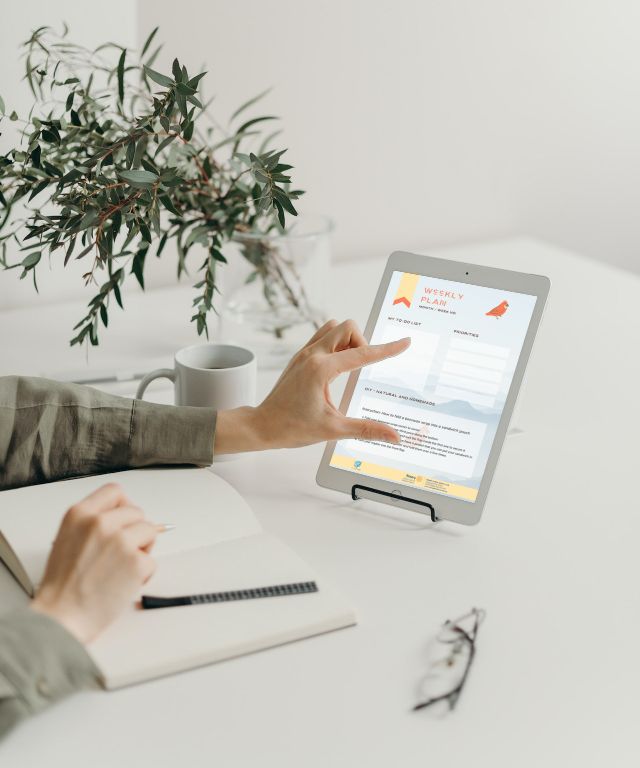 The planner is not dated, so you can start at any time. However, some weeks are themed (such as Valentine's Day, Halloween, or Christmas). If the theme doesn't match the month you're in, just switch out the sheets.
This weekly planner will help you live a healthier, more sustainable life without disposable plastic.

get this planner today and Invest in a healthy, sustainable and eco-minded future without plastic!
This is a PDF digital file. No physical item will be shipped or mailed. 
All downloadable digital items are for personal, non-commercial use only. They may not be transferred, shared, forwarded, resold, distributed or posted by electronic means or as free downloads.
All images and content are copyrighted by Seas & Straws and Jana Koebel.