How Green Certifications Can Make a Difference in Your Hotel
Have you noticed that travelers these days are becoming more mindful of the impact their travel choices have on the environment? It's not just about what they do, eat, or how they get around, but also where they choose to spend their vacation.
According to a recent study by Booking.com, a whopping 80% of travelers prioritize sustainable travel. And if that's not impressive enough, 65% of these travelers would actually view a particular accommodation more positively if it had a sustainability certification or label. It's clear that sustainability is a high priority for travelers, and they're eager to make choices that align with their values.
Thankfully, this shift presents new opportunities for hotels to align with environmental values, highlighting the importance of green certifications.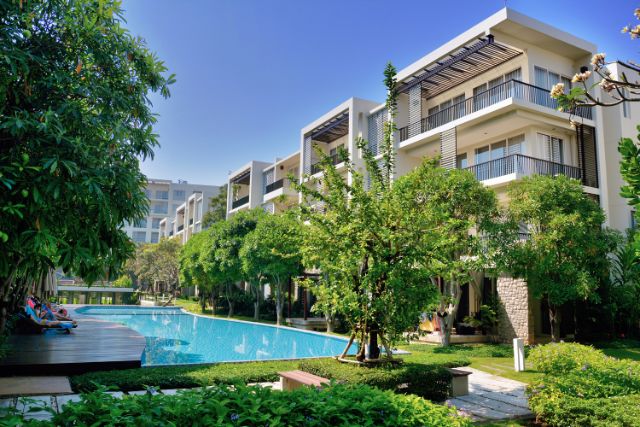 Green Certifications: hotel with lush greenery
What are Green Certifications?
Green certifications are third-party assessments that evaluate hotels' environmental performance against various standards, including energy efficiency, water conservation, waste management, and sustainable practices.
Why Should You Consider Getting Your Hotel Certified?
Getting your hotel certified comes with a bunch of fantastic benefits, including:
Reduces Environmental Footprint
Getting certified involves embracing eco-friendly practices, which enables your hotel to protect our planet by using resources responsibly and reducing harm to the environment.
Saves Money
By using energy-saving technologies such as solar panels, smart water usage (e.g., low-flow water fixtures), and waste reduction through recycling and composting, your hotel can effectively reduce operating costs and achieve financial savings to the bottom line.
Satisfied Guests
It's no secret that many travelers these days are on the lookout for eco-friendly accommodations. Going green brings a sense of joy to your guests, as they are able to relax and unwind with a clear conscience, and it compels them to return and share their positive experience with others.
More Bookings
Getting certified is a good way to advertise because it tells people that you're serious about being sustainable. As a result, this can potentially result in higher reservations and loyalty from those who appreciate your dedication to the planet.
Good Reputation
Hotels that prioritize the environment are always appreciated by guests and industry professionals. Showcasing your dedication to sustainability through green certifications make your hotel stand out from the competition.
Global Green Certifications For Your Hotel
There are some top-notch certifications that your hotel can achieve. Some of the most popular include:
1. LEED (Leadership in Energy and Environmental Design)
The LEED certification is an internationally acknowledged rating system for environmentally friendly buildings, created by the United States Green Building Council (USGBC). It evaluates a range of environmental factors, including energy efficiency, water conservation, waste management, and indoor air quality. For hotels to get LEED certified, they have to be checked and reviewed by GBCI. Hotels earn points for doing well in different areas, and these points decide if they become Certified (40-49 points), Silver (50-59 points), Gold (60-79 points), or Platinum (80+ points) certified.
For more information: https://www.usgbc.org/leed
2. Green Key Global
Green Key Global is an eco-certification program for hotels and hostels, campsites and holiday parks, small accommodations, conference centers, restaurants, and attractions. It evaluates the six categories using the same 13 criteria areas which includes environmental management, energy preservation, water efficiency, waste handling, and corporate social responsibility among others.
For more information: https://www.greenkey.global/
3. The Blue Standard by Oceanic Global
The Blue Standard is a rigorous sustainability certification awarded by Oceanic Global to hotels and businesses that successfully reduce single-use plastic waste. To earn Blue Standard verification, which demonstrates impactful commitment to oceans and the environment, applicants must meet stringent criteria through audits analyzing plastic usage, operations, suppliers, and compliance.
4. EarthCheck
EarthCheck certification is a science-based program which examines how tourism businesses affect the environment, society, and economy. To earn this certification, hotels must undergo a rigorous assessment process that includes a self-assessment, an on-site audit, and a review by an independent panel of experts. The program has four levels: Silver (Years 1-4), Gold (Years 5-9), Platinum (Years 10-14), and Master (Years 15+).
For more information: https://earthcheck.org
5. Green Globe
Green Globe is a certification program that promotes sustainable practices in tourism. Its assessment contains 44 guidelines organized into four categories: environmental, sustainable management, social economic and cultural heritage. It's backed by more than 380 indicators which differ based on the type of certification, location, and local conditions to ensure complete compliance.
For more information: https://www.greenglobe.com
6. ISO 14001
ISO 14001 is an international standard that outlines what's needed for an environmental management system (EMS). While not specific to hotels, obtaining ISO 14001 certification demonstrates your commitment to minimizing the environmental impact of your hotel's activities. It focuses on areas such as resource efficiency, waste management, pollution prevention, and compliance with relevant environmental regulations.
For more information: https://www.iso.org/iso-14001-environmental-management.html
7. Energy Star
Energy Star is a widely recognized energy efficiency certification program, primarily focused on reducing energy consumption and greenhouse gas emissions. Although Energy Star certification is not exclusive to hotels, it can significantly enhance your eco-friendly credentials. To get certified, hotels should implement energy-efficient measures, such as LED lighting, HVAC optimization, and smart energy management systems.
For more information: https://www.energystar.gov/buildings/building_recognition/building_certification
8. Travelife
Travelife is an international certification program for tourism businesses, including hotels, emphasizing sustainability in three main areas: environment, people, and communities. Its recognized requirements cover emissions, biodiversity, human rights, fair labor, child protection, and animal welfare. Upon meeting the Travelife Standard, hotels receive Travelife Gold Certification, which needs to be maintained every after two years.
For more information: https://travelifestaybetter.com/
While there might be initial costs to certify your hotel, be assured that this is a wise investment for your business over time. Why, you ask? Well, it's not just about helping the environment – though that alone is already a big win for sure. It's also about creating a ripple effect that brings you a stellar reputation, more guests wanting to stay, and even savings on your bottom line.
Whether you're a hospitality pioneer wanting to do the right thing or a smart business owner looking to get ahead, going green isn't just a choice; it's your roadmap in making your hotel shine while setting a good example that others will want to follow.