The Soulmade Hotel in Munich - a dream come true for eco-lovers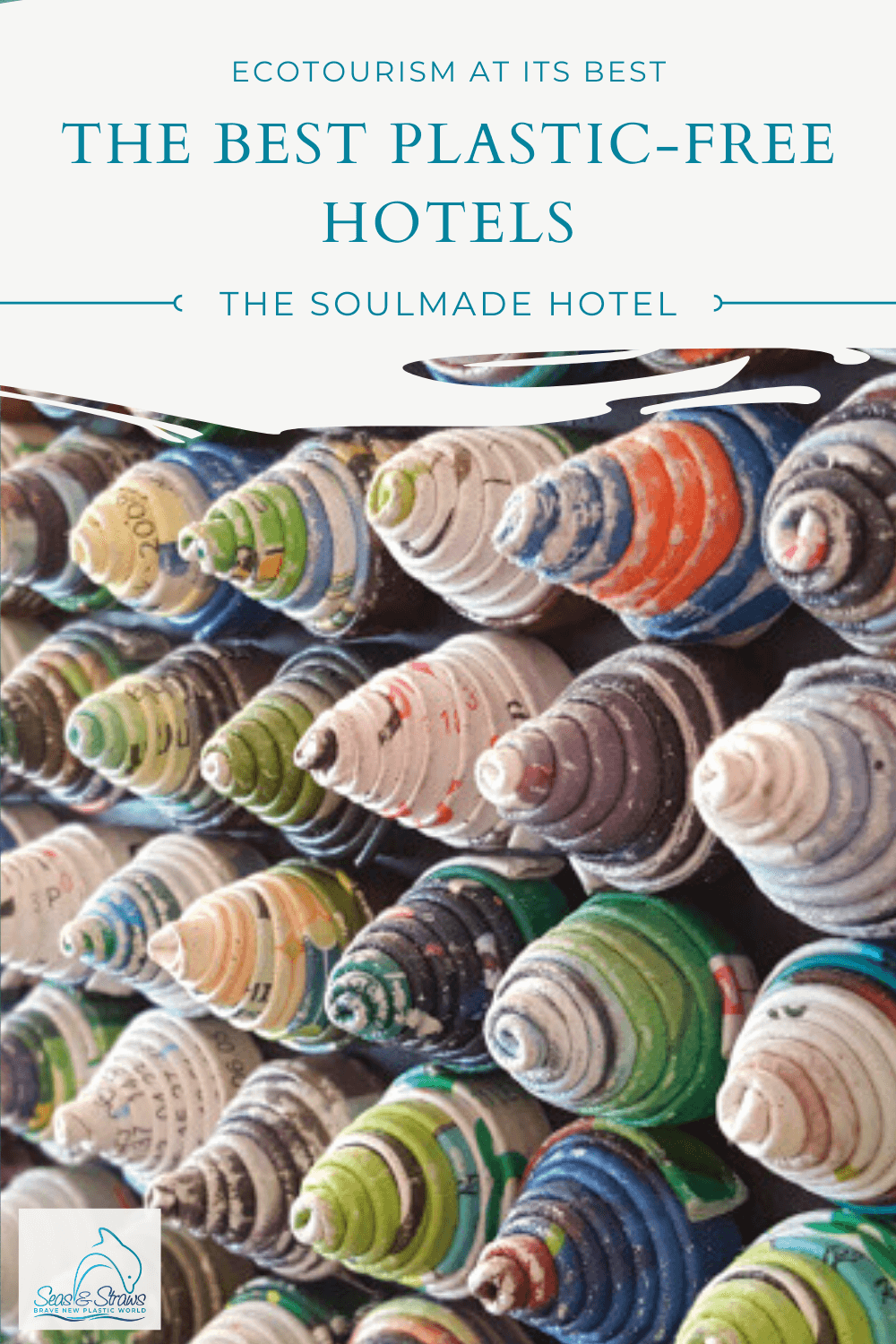 The Soulmade Hotel in Munich is a dream come true for the eco-conscious traveller who does not want to sacrifice comfort. Everything is just perfect here. It is different from any hotel I've visited in that it is completely made of wood and natural materials! Even more, the hotel ensures that only sustainably grown and certified wood is used.
Despite the focus on environmental protection and sustainability, however, comfort and functionality are not neglected. The Soulmade is a very modern hotel. There are terminals in the lobby where you check yourself in and the door to your room opens with a modern key card. In fact, the key card was the only piece of plastic that I saw in the whole hotel.
The Soulmade living room is modern, Comfortable and Inviting 
Let's start with the room. I had booked the business suite. Even as I opened the door and made the first step into my "temporary home", something unique and wonderful happened: I immediately felt comfortable and homey. While other hotel rooms are often cold and sterile, this one feels warm and welcoming. I immediately relaxed.

Local, sustainably grown wood (spruce, oak & ash) is used for the walls, the floor and the furniture, while the bed sits on a natural sisal carpet. One wall is made of straw, with rugs from goat and sheep.
Even the window frames are made of wood.
Due to the light colors and the modern accents, however, the whole room looks very fresh, modern and stylish. You do not get that woodcutter's hut atmosphere.
A large paper lamp gives a beautiful warm and soft light.
There is a small, fully equipped kitchenette. 
In the morning you can grind and brew your own coffee (what a wonderful smell!). If you do not drink coffee, there is a selection of organic teas of fair cultivation. They come in compostable teabags (no plastic).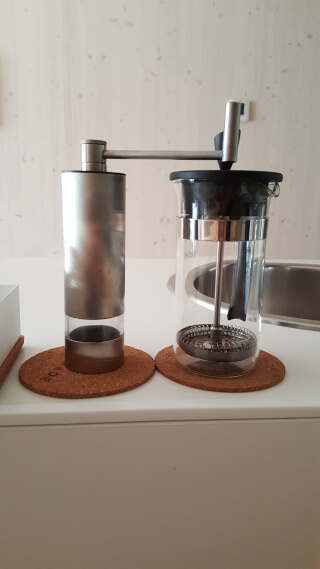 Grind and brew your own coffee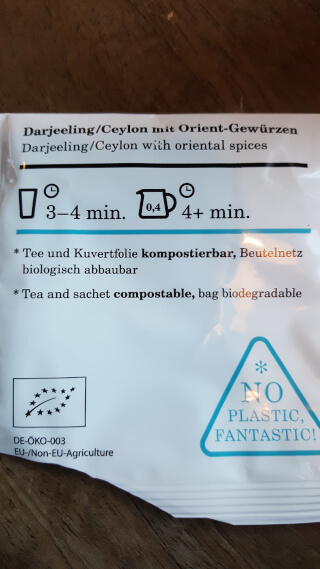 Organic teas in compostable teabags
The rest of the living space is occupied by the large bed made of ash wood. The linen is woven from sustainably grown beech and eucalyptus wood. Next to it is a small desk and a very, very comfortable bench with lots of pillows. I spent hours working and reading there and did not want to get up from this cozy corner! Of course, everything is made from natural materials. No plastic to be found anywhere. 

On the desk you find a box of wooden writing utensils. Free Wifi is a given.
And books! There are little book niches everywhere: in the entrance hall, on the side of the desk and even in the bathroom! I suppose that's one of the reasons why I felt so comfortable in this hotel.

One wall is completely made of windows and has electric shutters, which automatically go down when the sun comes around. Through the window you have a great view of the garden. I was delighted when I saw that there's a wooden tiny house in the garden (I'm a huge fan of tiny houses)!
The 3D wall decoration is stunning. I think the patterns are made of reycled newspaper. What an original idea! I never thought old newspapers could be made into such an amazing and colourful design!
The Soulmade bathroom - Organic, recyclable and plastic-free
True to the modern style the Soulmade Hotel is committed to, the bathroom was very open. Through a clear glass wall you can look from the sink to the bed and further out into the garden. 
The toilet and the rain shower are separated by a frosted glass wall. Again, I could not discover any plastic. You'll search in vain for mini toiletries. Hand wash, shampoo, conditioner and shower gel are organic and microplastic-free. The packaging is recyclable and biodegradable. 
The towels are fairtrade eco-cotton.
And again, there are books!

The Soulmade lobby is a great Place to work and relax
The lobby is modern and inviting. You guessed it, there is a huge bookshelf in the middle of the room that invites you to browse and unwind. On both sides of the shelf you find many tables as well as comfortable armchairs and cozy corners. The Soulmade hotel is also a co-working space, so you can easily spend the whole day there, working and relaxing.

There is a large fireplace for cooler nights in the middle of the room, next to it a guitar. You can make yourself comfortable with a book in one of the many cozy corners or play the guitar at the fireplace. Or you relax on the terrace and look into the green.
The vegan (if you like), fresh and wholesome breakfast is also served in this room. The staff invites you to make your own almond milk or a creative smoothie made from fresh fruit and vegetables.
Sustainability
The Soulmade hotel near Munich is unique and does everything right. They not only strive to make their guests feel comfortable and at home, every detail is also well thought out to have as little impact on the environment as possible.
Sustainability plays a major role in their concept. The whole hotel was built, furnished and decorated with wood and natural, sustainable materials. For every tree that is cut down for the construction of a Soulmade hotel, 2 new ones are replanted. In addition, another tree is planted for each direct booking. So a new hotel completely grows in about 7 years. Talk about sustainable.
The breakfast is entirely made of seasonal and regional products.
The Soulmade is powered with renewable energy, their cars are electric. Guests can use Segways for free. All products and appliances are fair and ecological.
They have their own store where you can buy ecological, plastic-free and fair products, for example the wonderfully smelling shower gel, the lamp or even the bed.
In addition, it is super comfy and inviting. It was the first hotel where I immediately felt completely relaxed and at ease. If I could have, I would have stayed holed up in my room the entire time. :-)
Did I pique your interest? Then read more excellent reviews or book your stay here:
---
---
Ready to join the movement?
Ready to become part of the global zero waste movement? Sign up for my free monthly newsletter with fresh ideas, downloadable materials and lots of inspiration for reducing your single-use plastic waste. Make your home zero waste, lead a healthier life, and save tons of money in the process!
Bonus: Get this free 2-page checklist (one of many) with lots of tips on how to make your bathroom plastic-free and zero waste instantly. Concise, easy to use, and ready for immediate implementation.
"Yes, sign me up to receive my free checklist and the monthly newsletter Seas & Straws Spotlight!"*
*Your information is 100% private and never shared.