The PLastic-Free hotel Revolution:
The Makeover Your guests want to see!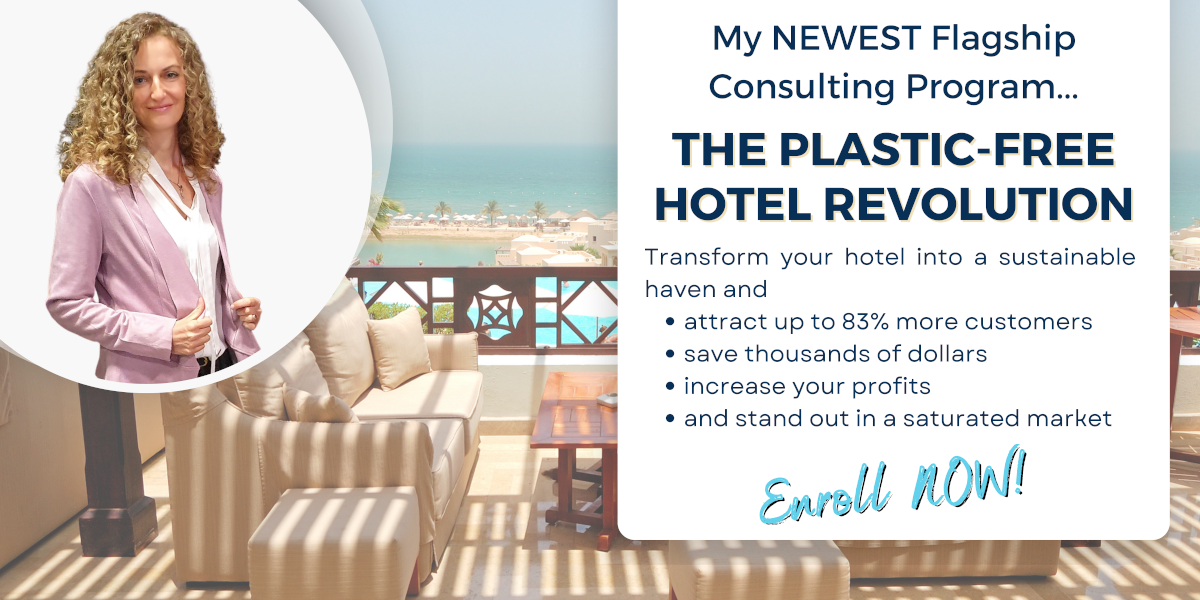 Reducing your hotel's environmental footprint is hands-down the most effective way to BOOST your visibility, your profits and your occupancy rate. 
Continue reading if ...
As a hotel owner or manager, you KNOW that providing exceptional experiences for your guests is at the heart of your business, yet you struggle to fill your beds and resonate with your guests.


You FEEL market or legislative pressure to reduce your hotel's environmental footprint, but don't know where to start and feel overwhelmed.


You would LIKE to implement more sustainable practices, but simply don't have the time, resources and expertise to do so. You're wary of the upfront costs.


You THINK it's a waste of time and money, and you don't think your customers would appreciate it.


You WANT to be "found" on the internet, attract more guests, and raise your rates, but you don't know how to do it and you're not succeeding.


You are so busy with the daily tasks of running the business that you don't have the time to go down the rabbit hole of researching eco-friendly materials, finding the right products, negotiating with suppliers, requesting and testing samples, and comparing prices.
If That Is You, Then ...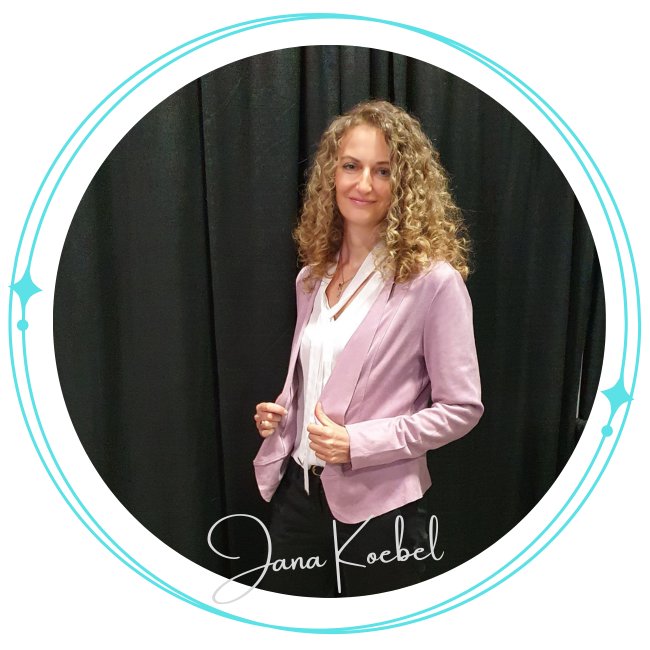 I'm here to help. As your sustainability specialist, I help you with the entire plastic-free transition process end-to-end so you and your team can stay focused on daily operations and delivering exceptional hospitality.

First, we conduct an in-depth assessment of your property's current plastic usage and reduction opportunities. From there, I spearhead material sourcing, budget analysis, vendor negotiations, and staff training to find and implement ideal plastic-free alternatives tailored to your needs.
Throughout, I provide hands-on support to seamlessly integrate changes without disrupting guest experience. My full-service assistance lifts the burden so your team can readily reap rewards of sustainability.
In short, I navigate the complexities of going plastic-free so you don't have to. Lean on my expertise to drive success while you focus on the big picture. Let's connect to begin your hotel's transformation.
HERE'S WHAT YOU CAN EXPECT FROM ME
I provide step-by-step guidance to help your hotel embark on a sustainable journey that will transform your business, your marketing, your clientele and your bottom line. Together, we will...
establish sustainability goals that align with your hotel's desires and objectives. These goals include an action plan with an overall timeline and key milestones. 


conduct a thorough assessment of your property's single-use plastic footprint.


create a complete inventory of alternative items to be sourced, including cost, quantity and supplier information.


review potential vendors, products, and processes and make recommendations to achieve the established sustainability goals. When possible, we work with your existing supplier network to identify sustainable alternatives that meet our requirements. 


request product samples and assist you with trial programs to test the effectiveness of the products.


implement the eco-friendly products and materials into your operations.
By adopting plastic-free practices, you not only meet market and legislative demands but also attract a new wave of eco-conscious guests who appreciate your commitment to environmental responsibility. Furthermore, as you raise your sustainability profile, you position yourself for increased visibility on the internet, helping you fill your beds and raise rates.
why You can no longer afford to ignore the growing green trend in the tourism industry
The numbers speak for themselves. The global market for eco travel is experiencing remarkable growth, with a projected worth of $340 billion by 2027. As eco-conscious travelers become a significant segment, their preferences are shaping the industry. 
81 % of travelers say that sustainability plays an important role in their choice of hotel.


43 % of them are willing to pay more for accommodations that focus on sustainability.


More than half of them believe that there are still not enough sustainable travel options.


Many (36%) said they didn't even know that they existed, that they couldn't find any options where they were traveling (32%) and that they didn't know how to find them (31%).


Reducing plastic waste is the most important element for environmentally conscious travelers to pay attention to. In fact, over half (53%) have reported that they get frustrated if their travel accommodation stops them from being sustainable, for example by not offering recycling facilities.
By going plastic-free, you can attract this whole new breed of environmentally conscious guests and enhance your reputation.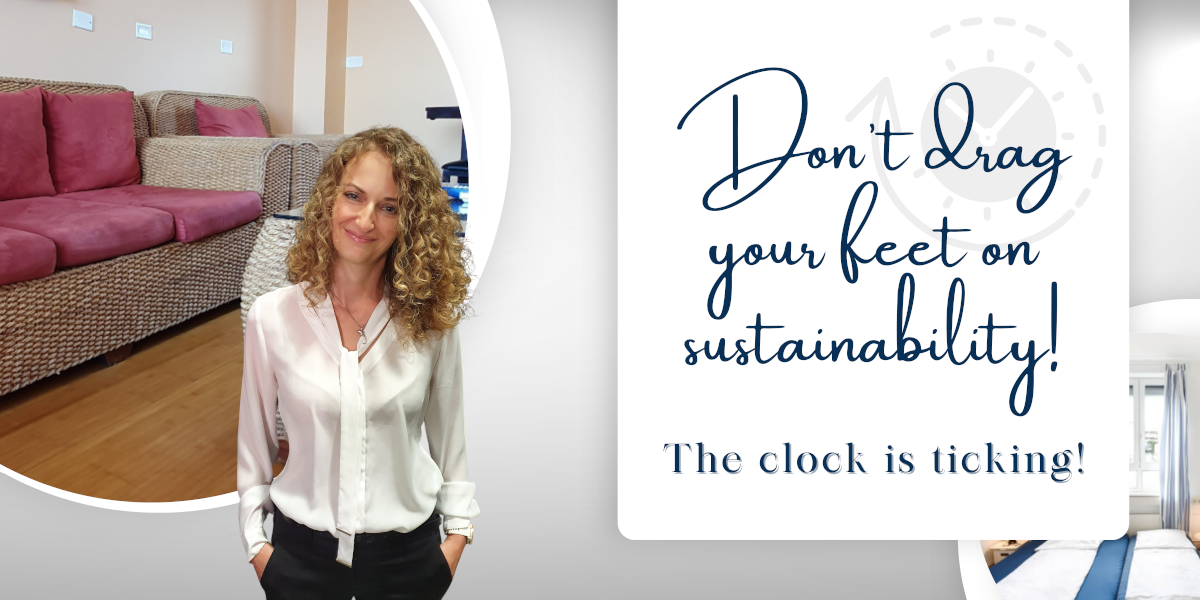 what's in it for You
Going plastic-free not only benefits the environment but also offers significant advantages for your hotel. It truly is a win-win. 
Going plastic-free will save you costs in the long run. Implementing alternatives to single-use plastics, such as refillable dispensers and biodegradable packaging, reduces the expenses associated with constantly restocking single-use items.


By embracing plastic-free practices, you can attract a large and growing segment of guests who prioritize eco-friendliness when choosing accommodations. After all, you do want to attract these 81% of travelers who prioritize sustainable hotels AND these 43% that are willing to pay more for a sustainable hotel experience, right? 81% more travelers, half of which will pay more, that translates to higher rates and increased profitability for your hotel. By becoming a destination for environmentally conscious guests, you can also foster a loyal following and build a reputation as an eco-friendly establishment.


The market is placing a significant pressure on hotels to become more sustainable, and with an increasing focus on plastic waste reduction, many countries and regions are implementing regulations and policies. Proactively adopting plastic-free practices ensures compliance with current and future environmental regulations, allowing you to stay ahead of the curve and demonstrate your commitment to responsible business practices.


Involving staff in the plastic-free transition process, providing education and training, and recognizing their efforts can foster employee engagement and pride in working for a sustainable hotel. By empowering your staff to contribute to sustainability initiatives, you create a positive work environment and promote a shared sense of purpose.


As sustainability becomes increasingly important to travelers, hotels that prioritize plastic-free initiatives have a better chance of standing out and differentiating themselves within the industry. You will be respected for your commitment to protecting the environment and will be viewed as thought leaders in the industry. This increases your credibility and inspires others to follow your example. Who knows, it may even lead to opportunities for features in magazines and other media, further enhancing your reputation and visibility.


By eliminating single-use plastics, you can significantly reduce your contribution to plastic pollution and protect ecosystems, marine life, and natural habitats. Plastic-free initiatives help you minimize your carbon footprint and demonstrate a commitment to sustainability, enhancing your brand image and attracting eco-conscious travelers who prioritize environmentally responsible businesses.
You have the opportunity to tap into a lucrative market, position your hotel as an attractive choice for a new segment of eco-conscious travelers, to enhance your reputation, and to differentiate yourself from your competitors. It's not just about being environmentally responsible; it's also about securing long-term business success in an increasingly conscious world.
Don't miss out!
Want to take it one step further?
Your Oceanic Global Seal
If you're aiming to demonstrate your commitment to the environment and a plastic-free future, consider applying for the Oceanic Global Seal. As an official consultant for the Oceanic Global Blue Standard, I assist hotels worldwide in reducing single-use plastic, enhancing sustainability, and navigating the verification process. The Blue Standard, backed by Oceanic Global, offers a 3-star verification system designed to guide businesses like yours toward eco-friendly practices, with open-source resources, audits, consulting support, and vetted vendors to help you eliminate single-use plastic and adopt sustainable operations. Achieving The Blue Seal showcases your dedication to ocean conservation and sustainable practices, making a significant impact in addressing plastic pollution.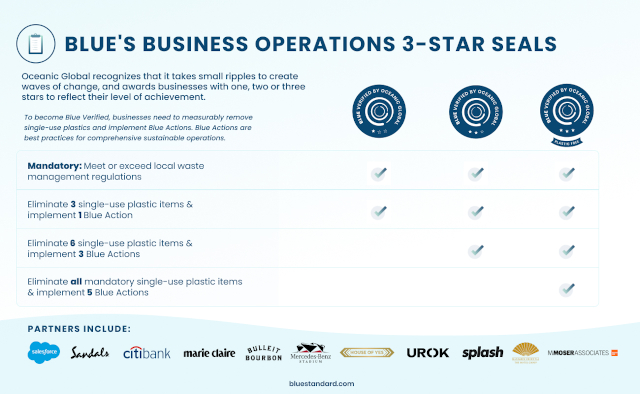 Blue Business Operation 3-Star Seals
If you want to make your commitment to the environment official and obtain the Blue Seal from Oceanic Global, 

I will fill out all necessary forms to document the successful implementation of the projects. When all documents are complete, they are submitted to Oceanic Global for final review.


Upon successful review, Oceanic Global will award the

appropriate

 Blue Seal and associated Marketing Toolkit to you.

Ready to make your hotel fit for a plastic-free, sustainable and profitable future?
Most people assume that the "do it yourself" path is more cost-effective, overlooking how slow and inefficient that can be. With your busy schedule, you can't afford to venture into the exhaustive research of eco-friendly materials, product sourcing, supplier negotiations, sample testing, and price comparisons.
That's precisely why this program is invaluable - it condenses years of expertise into a proven framework that dramatically accelerates your learning curve and success.
For a limited time, you can join the BETA program at a substantial discount and be among the first to benefit from these exclusive sustainability insights and strategies.
Plus, you're fully protected by my 100% money-back guarantee if you complete the full course and aren't satisfied. But spots are limited for this discounted pre-launch offer ending soon.
Secure your coaching package today! Act swiftly, as the discounted rate is only available until month-end, after which it will rise.
Do-it-Yourself
BASIC
Step-by step assistance along the way.

6-8 weekly live coaching sessions providing personalized guidance and sustainability training.

Done-for-you materials: assessment sheets, resources, presentations and signage for staff and guests, ready-made email templates and marketing kit 




Original Price: $ 2,497
---
Guided Assistance
UPGRADED
Everything included in the Basic package


PLUS …

Form submission to Oceanic Global for seal application.

Unlimited 24/7 text support during the coaching program and 1 month after completion.



*The most popular coaching choice.*
Original Price: $ 2,997
---
Done-For-You
PREMIUM
My all-inclusive, done-for-you on-site consulting package. I handle the entire plastic-free transition so you can focus on daily operations

.

Includes all services from Basic and Upgraded packages.
*Transportation fees (flights, train, etc.) to your location will be added.*
Original Price: $ 4,997 (+ transport)
---
100% Satisfaction Guarantee
My mission is to fully equip hotels to implement plastic-free sustainability. I'm invested in your success. That's why I offer an ironclad 100% money-back guarantee.
If you complete the full coaching program and aren't satisfied with the quality or practical value of the content, I will refund your investment, no questions asked.
My commitment is to deliver a program packed with actionable insights you can implement immediately to transform your property. If the strategies don't prepare you to succeed, I'll make it right.
Your success is my top priority. Enroll now with confidence knowing you're fully protected by my guarantee. I stand behind the results my program delivers.
---
Testimonials
"As a small bed and breakfast we noticed that our plastics bin was always getting quite full. To help us minimise our imprint on the environment, Jana did a thorough analysis of our practices and gave us valuable advice. With her sensible and practical recommendations, we could significantly reduce our single-use plastic consumption. As an added bonus, our food waste was also reduced, thus saving us money. Just a few small changes in our mindset and day to day practices resulted in us saving money and reducing our impact on the environment. Thanks Jana!"
- Neil & Michel Kilindo, Bützow, Germany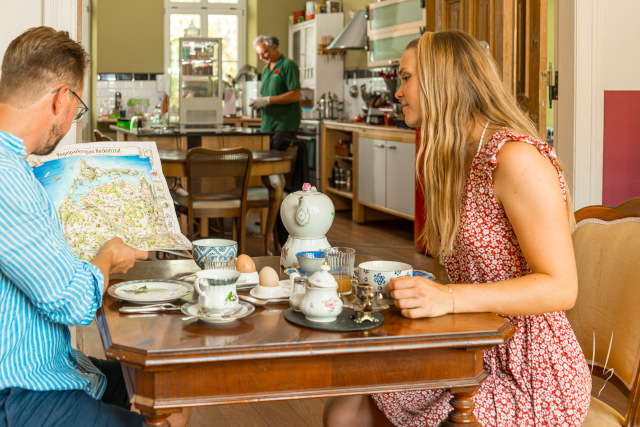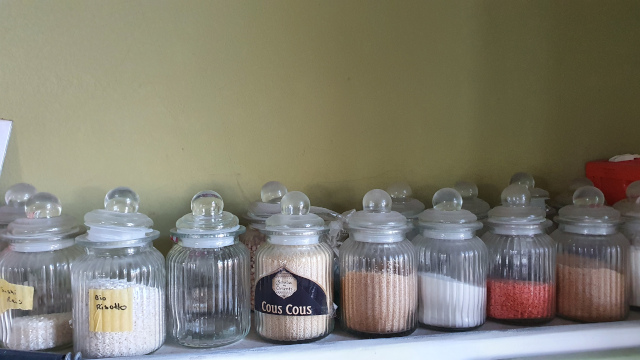 ---