Best Plastic Free Water Filter
The Best Plastic-free Water Filters 2022

If you're anything like me, you're super conscious about how clean your drinking water is - and for good reason too! Our drinking water can contain a variety of chemicals and pollutants which can adversely affect our health. 
Whilst they may pass certain State safety requirements (For example, the US EPA allows up to 90 contaminants in tap water), that does not guarantee that it won't have any negative impact on you.
Bottled water isn't a solution either. The FDA treats bottled water as a packaged food item, which does not require regular safety testing. The plastic bottles, on the other hand, contain a myriad of toxic chemicals. Not to mention the environmental impact (the U.S. alone throws away 1,500 plastic water bottles every second).
I use the cheapest - and in my eyes - the most healthy option - filtered tap water. Every drop of water I drink passes through my filter first. 
But as always, not all products are environmentally safe - a key factor to always consider in your purchase. Most water filters are made of plastic, and while they may be good at removing bacteria and pollutants, what good is it if toxic chemicals seep back into the water from the plastic container? Therefore, if you really want to be sure that your drinking water is absolutely safe and healthy, you should choose a plastic-free water filter. 
To guide you on your Zero-waste Journey, I've rounded up some of the best plastic-free water filters for 2022 - not only do they do an amazing job, but these plastic-free water filters last a long time and help you remain eco-conscious.
1. The Crazy Cap Water Filter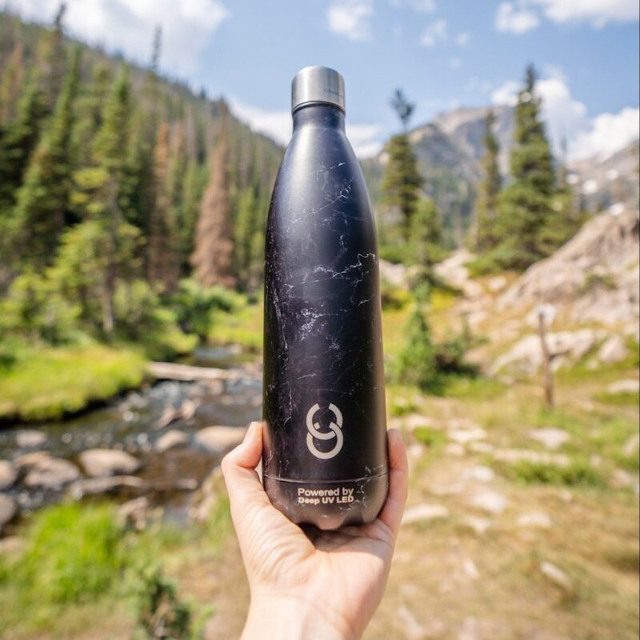 The Crazy Cap Water Filter. Photo ©CrazyCap
How it works

A powerful mobile option. With just a press of a button, this stainless-steel water bottle destroys 99.9% of microbial pathogens and provides clean, purified water through UV light exposure. UV light is non-toxic and leaves no residue behind.
Special Feature

The best part is, the bottle cleans itself, so you never again have to go through the hassle of trying to clean it! The lid includes an automatic cleaning feature that works six times each day for 20 seconds, thus purifying the whole bottle of all bacteria and keeping it pathogen-free.
Need industry-backed assurance?

NSF International (a leader in water safety) granted the Crazy Cap a NSF 55 certification which means the UV-C innovation they use is efficient in destroying germs, viruses, and other microbes found in drinking water.

2. Royal Berkey Gravity-Fed Water Filter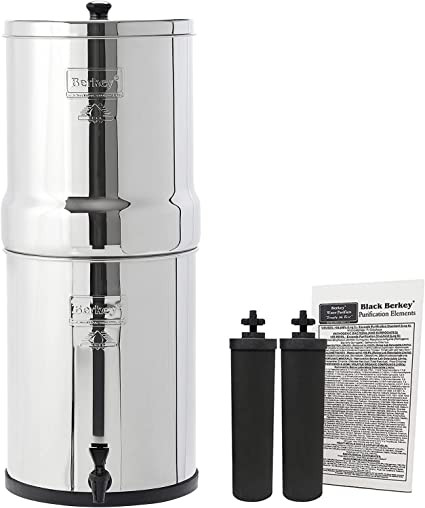 The Royal Berkey Gravity-Fed Water Filter. Photo © Royal Berkey
How it works

Perfect for use at home, outdoors, and for families- this powerful filter has two purifying elements made of 304 stainless-steel large enough for 2-6 people. 
When it comes to filtration, the Royal Berkey filter removes 99.999 percent of viruses and bacteria, trihalomethanes, extrinsic minerals, and toxic substances from the water, making it completely safe to drink. It also reduces nitrites and heavy metals such as lead and mercury.
Industry Rating

The Royal Berkey does not meet the stricter standards of NSF or ANSI, which certify testing laboratories. That does not mean that the filter is ineffective. They are tested and certified for all kinds of chemicals and pollutants and you can find a long list of test results on their website.
3. Apex Countertop Drinking Water Filter

The Apex Countertop Water Filter. Photo © Apex
If your main concern is about the kind of minerals your water may contain, this filter is a no-brainer for you. This is one of the best plastic-free water filters because it removes up to 99 percent of contaminants like sediments, chlorine, industrial chemicals, fluoride, chlorine, arsenic, and other toxic heavy metals from your drinking water.
If you're looking for a budget-friendly option for your home, this is perfect for you. This NSF-certified filter is a cheap option that is simple to install and capable of filtering up to 735 gallons of water in just one cycle.
4. SIMPURE V7 Under Kitchen Sink Water Filter

SimPure V7 Under Counter Water Filter. Photo: ©simpurelife.com
 The SimPure V7 is a stainless steel under-counter filter designed for municipal water without reducing the health beneficial mineral content.
How it works

The Simpure V7 is 5-stage (PP+GAC+KDF+GAC+PP) under kitchen sink water filter. This device has gained popularity for its ability to provide clean and safe water for drinking, cooking, and other household needs. The product is designed to be installed under the kitchen sink and is equipped with advanced filtration technology that removes impurities and contaminants from tap water.
Special Feature

One of the notable characteristics of the Simpure V7 water filter is its advanced filtration system that is capable of removing up to 99% of contaminants from tap water, including lead, chlorine, and other harmful substances. 
Another characteristic of the Simpure V7 water filter is its easy installation process. The product comes with all the necessary components and instructions for a hassle-free installation.
What' more, Simpure V7 water filter is made of SU304 food-grade stainless steel with a smooth brushed finish, no fingerprints, and BPA-free.
5. A Charcoal Filter

Charcoal Water Filter
For our final filter on our list of best plastic-free water filters, we return to nature! Charcoal has the intrinsic potential to create connections with pollutants. Essentially, charcoal sticks in your water will eliminate chlorine, copper, pesticides, and other harmful heavy metals by bonding with the pollutants and pulling them out of the water.
Additionally, as it filters the contaminants out, it simultaneously enables nutrients such as calcium to flow through it, which can have positive impacts on your health.
It needs no energy to function since the filtration control system depends fully on the pressure of water and the ability of charcoal. Simply swap them out periodically!
In Summary

Being eco-conscious and health-conscious can go hand in hand, and a good water filter ist a must for a plastic-free kitchen. A plastic-free water filter made of stainless steel or glass will ensure that the water you drink is free from pollutants and chemicals. When, after years of use, it's time to dispose of your filter system, you can easily recycle the components.