Plastic Free Food Storage
Plastic-Free Food Storage
Food storage makes life simple. It helps you save time with meal preps, keep food fresh and reduce food wastage - but the material your food storage is made of is very important. Plastic may be convenient, but it adversely affects your health and the environment. Make the switch to plastic-free food storage with these  alternatives.
1. Use glass containers
Glass is my go-to option whenever I need a plastic-free food storage alternative. It's so durable and versatile coming in various shapes, colors and sizes - from glass jars to storage bowls. This makes organizing your pantry easy, safe and even aesthetically pleasing. When shopping, opt for tempered glass as it's much sturdier and most are microwave safe. 
Kilner jars are a particular favorite, because they come with a rubber seal to keep food fresh and can be recycled after.

Glass is my favorite option when it comes to food storage.
2. Beeswax wraps and bags
Beeswax wraps are another great option because they are biodegradable, reusable, and made of organic ingredients like cotton, beeswax, and oils. They are super versatile too - they can be used to store food in the fridge, freezer, or pantry. Use them to pack lunches, store prepared vegetables, or whatever else you would've used plastic wraps for. When they reach the end of their life span, simply compost them. 
Try these from Abeego made of hemp, organic cotton cloth, beeswax, tree resin, and jojoba oil.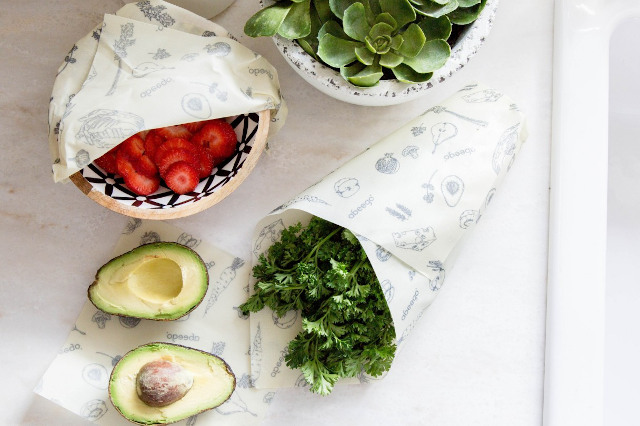 Beeswax wraps are completely organic and naturally antibacterial
3. Stainless steel containers
Stainless steel containers are easily accessible and affordable. Additionally they are bacteria resistant and do not alter the taste of foods. They are non-corrosive and non-reactive too, so you don't have to worry about leaching chemicals unlike with plastics that leach especially when storing hot food. But be very careful! Whilst these are safe for use in an oven, avoid putting them in microwaves - they can quite literally explode on you. They are a safe option to pack kids' lunches, and are durable enough to withstand any lunch break. 
Check out the stainless steel collection from EcoLunchBox - a company dedicated to helping you be sustainable. 
4. Cloth bags & cloth covers
These reusable bags can be used to store food in the fridge, freezer, or pantry. They can help keep your fruits and vegetables fresh. Cloth is also the ideal way of keeping bread that will be eaten up soon from going stale. These are quite versatile in storing anything you can think of - chips, crackers, other snacks, even drinks. They are also super easy to clean-just toss them in a dishwasher. If possible opt for organic cotton cloth bags as these are long-lasting and have less of an environmental footprint.
Put them to a test with these reusable cloth bags from Art of Lunch. They have a waterproof inner layer, an airtight seal and can be put in the dishwasher after use. In addition, you support an independent artist. These lunch bags are free of PVC, lead, BPA, phthalates, and heavy metals.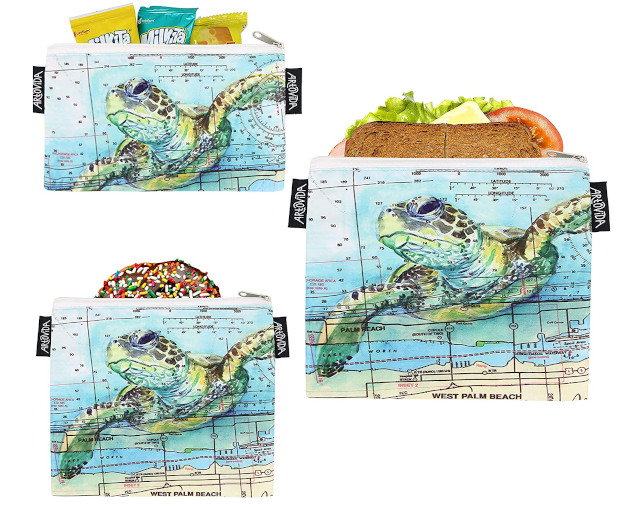 These cloth bags have a waterproof inner layer and are dishwasher safe.
If you're looking for more super affordable and sustainable options, then my shop (Gifts For Ocean Lovers) will be a perfect fit for you. From mugs and shirts to lunch bags and -there's something for everyone. They also come in a variety of designs and colors - all showing your love for ocean animals.