Bamboo, glass or stainless steel - Which reusable straws are best?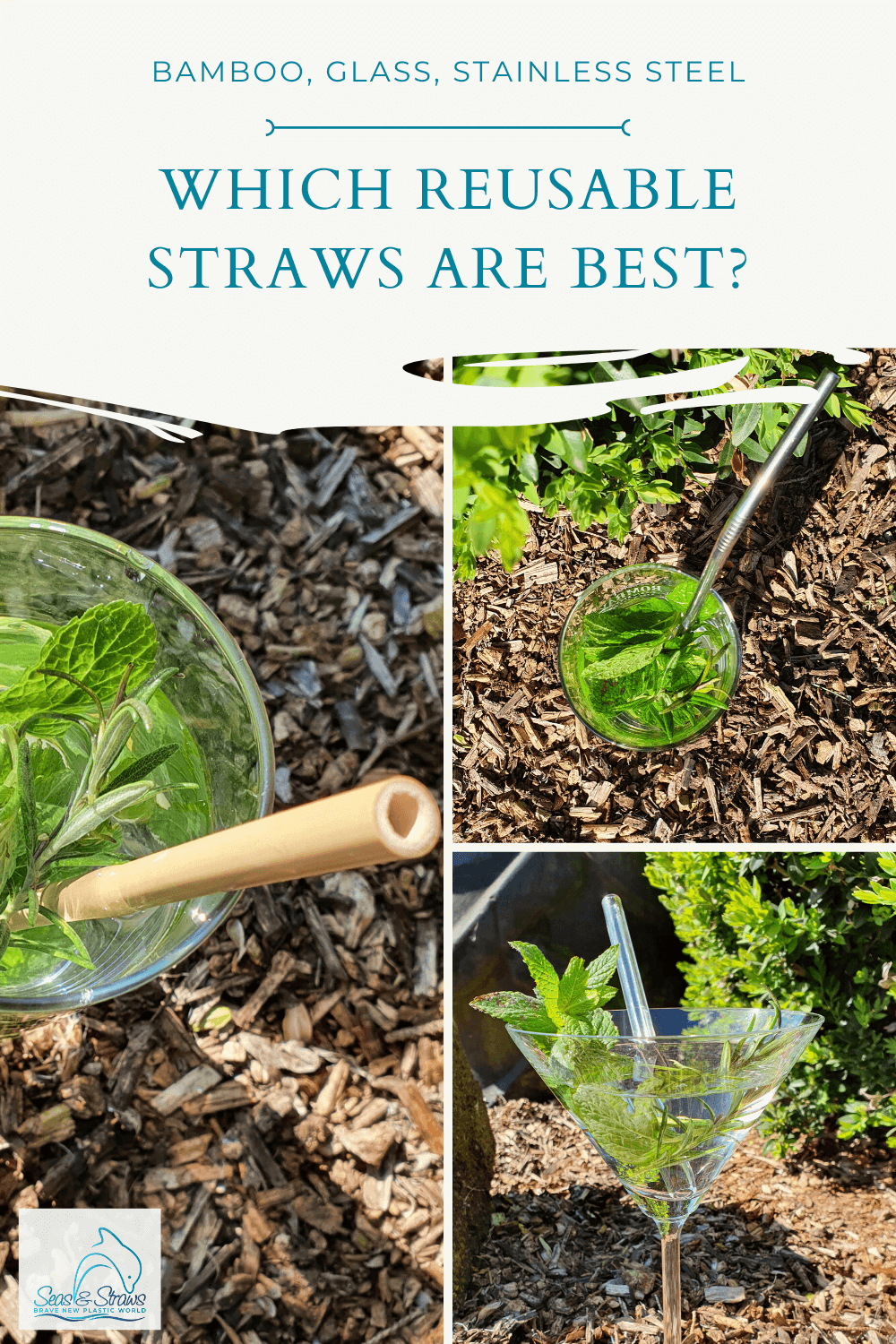 Plastic straws are out. Literally, as they will be banned in the EU as of next year. So, not only do coffee shops, restaurants and hotels need to look for alternatives, we, too, should finally make the switch to reusable straws.
Why use a reusable straw?
Because plastic straws cause a lot of harm to the environment. Americans alone use and dump 500 million plastic straws per day. They are so small and lightweight, a lot of them are blown out of the bins and end up in rivers and in the ocean where they kill more than 1 million seabirds and mammals every year. 

Have you seen that video of the poor turtle that got a plastic straw stuck in its nose? That's just one example.
Plastic straws are only needed by people with disabilities, the rest of us can easily do without them.
Are reusable straws hygienic?
As with everything that comes in contact with food, you have to clean your reusable straw thoroughly. If you are concerned with hygiene, glass straws are probably the best choice. They are see-through and have a smooth surface. However, all the straws I have came with a fitting cleaning brush, so it should not be an issue to keep them clean. If you take good care of your straw it can last a lifetime.

But which reusable straw is best?
Well, it's difficult to say. They all have their pros and cons and it depends on what's important to you. I prefer the natural feel of bamboo, but everyone has to make that decision for themselves.
(By the way, other than bamboo cups, which were tested to contain dangerous artificial chemicals, bamboo straws are 100 percent natural and safe.)
1. Bamboo straws
Pros: Bamboo is a renewable material that grows in abundance in Asia and doesn't need fertilizers or pesticides (you can read more about bamboo here). Bamboo straws are therefore completely natural, organic and chemical-free. You just take a stalk, dry it, cut it into equally long pieces and there you have your straw. Since it's a natural product, no two straws are the same. I have 14 of them and they all vary in diameter. Some are wider and perfect for smoothies and thicker drinks while others are smaller and can be used for water or soda. 
They are also really sturdy and lightweight. Perfect for carrying to your favorite bar. 
I love the exotic, tropical feeling they convey, like you're sipping a cocktail at a beach bar somewhere on a remote island.
Cons: The biggest disadvantage, of course, is that bamboo is not a native plant. It grows in Asia and has to be transported here which produces CO2.
Secondly, it is difficult to see if the straws are really clean. Bamboo is a porous wood material, so it's possible that parts of the liquid remain in the wood. On the upside, bamboo is naturally antibacterial. Anyways, you should always clean your straw well and let it dry completely.
Some say that their bamboo straws have a woodsy aftertaste but I could not detect this. You should try it and make up your own mind. I love bamboo straws for the fact that they are completely natural and have no impact on the environment (other than the transport).
You can buy your bamboo straws here.
2. Steel straws
Pros: Steel straws are virtually indestructible and will last a lifetime, if you take good care of them. You have to make sure they are properly cleaned, though. They are dishwasher safe but I recommend cleaning them manually with the included brush. The diameter is so small that you can't be sure they get cleaned well in the dishwasher. Apart from that, they are pretty sturdy and don't need to be handled with special care, which makes them suitable for hotels, restaurants or travellers. You can even buy a travel set, consisting of an extendable straw and brush - very convenient. I always have one in my handbag.
If you fancy something special, steel straws come in straight or bent versions and beautiful colors. I have a set of small straight, small bent, tall straight and tall bent ones.

Pay attention to buy only stainless steel straws, though (there are also copper or aluminium straws around). You can read more about stainless steel here. 

Cons: Steel straws conduct heat which makes them unsuitable for hot drinks (be careful, you'll burn your mouth). The steel might also feel very unpleasant between your teeth. I know of some people who can't stand the feel of it in their mouth. And they can have a metallic aftertaste.

Buy your complete set of stainless steel straws here.
3. Glass straws
Pros: Glass is probably the best choice. It is completely inert to odors and flavors, so the straws don't have an aftertaste. They also feel very smooth between your teeth and the rounded edges are pleasant in the mouth.
They are usually wider than steel straws, which makes them perfect for thick drinks with chunks of fruit or crushed ice.
Since glass does not conduct heat or cold, the straws are equally suitable for hot and cold drinks.
The biggest advantage, however, is that glass is see-through, so you can be absolutely sure the straw is clean. In addition, its smooth surface prevents any residue from sticking to the inner wall. From a hygienic point of view, glass straws are the most reliable choice.
They are dishwasher safe but as with steel straws I advice cleaning them manually. Most producers give you a cleaning brush with the straws.
And lastly, glass can be recycled indefinitely without a loss of quality (read more about glass here).
Cons: Glass can break more easily than bamboo or stainless steel, so it's better to carry them in a sturdy case rather than a cloth. The straws I bought, however, are extremely resiliant and don't break even when I drop them to the floor. There are differences and it's important to look for quality. If you choose the right one, it can last a lifetime.

Buy your glass straws here.
Other reusable straws
PLA: So-called "biodegradable" straws like PLA (polylactic acid) are a bad choice. They are mostly not biodegradable and at this point in time there really isn't much difference to a plastic straw. See my article on PLA plastic.
Silicone: Silicone is not a natural material and shares a lot of its characteristics with plastic. For one, it's not biodegradable or recyclable. Second, it can contain harmful BPA and possibly leaches it into the drink. And third, its flexibility and porous surface makes it very difficult to clean. I don't recommend silicone straws.
What about Paper Straws?
Pros: Paper straws are good for big fairs and festivals where the visitors can't be trusted to bring back the (more expensive) reusable straws and the staff has neither the time nor the equipment to clean every straw after every use.
They come in fanciful colors and original patters and are a real eyecatcher at any party.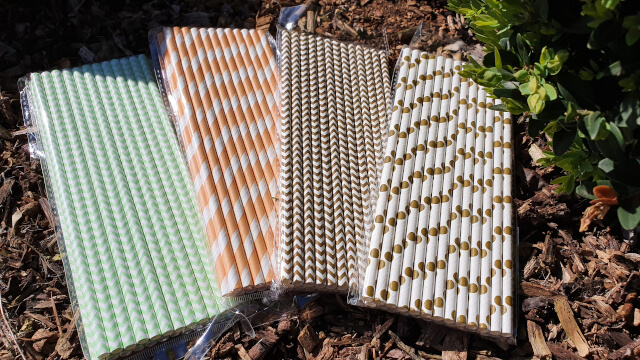 Paper straws are fun at parties but not sustainable (single-use, plastic packaging). Photo: Seas & Straws
Cons: Of course, they are not reusable, so they generate waste, which is what we are trying to avoid, right?
Real paper straws also soak through quickly and become instable, just like cardboard does when it gets wet (you have to drink your cocktail very fast). Those that do resist liquids better and longer are usually treated with chemicals or some kind of protective layer. That, in turn, not only makes paper straws impossible to recycle but is also bad for you. Just like plastic, the chemicals might pass into the beverage, especially acidic beverages like alcohol.

What's your Favorite?
So, which one is your favourite reusable straw? Do you already have one (or several) at home or are you just starting out on your plastic-free journey?
Whichever straw you decide on, make sure all the straws you buy come with a cleaning brush and are from sustainable sources - especially if you choose bamboo. If you go for glass it has to be of good, strong quality and steel straws have to be stainless, food grade. 
If you take care of them they all last for years. So in the long run, they save you a lot of money and the environment a lot of hurt.