Zero Waste Valentines Day
Zero waste Valentine's Day
Get ready for your zero waste Valentine's Day!
Valentine's Day is without question one of the most commercial holidays of the year. The flower and card industries in particular benefit from the hype. Did you know that 144 million Valentine's Day cards are sold in the US alone every year?
Who doesn't benefit at all is the environment, because all those cards, chocolate wrappers and perfume packages end up in the trash later. Valentine's Day has become an opportunity to buy things.
But shouldn't this day be about more than consumerism? Shouldn't it be about showing a loved one what they mean to you? You can do that very well without buying expensive material gifts - by getting creative and thinking about personal gifts that your partner will genuinely like, instead of buying a generic gift from the department store.
Here are a few ideas for a zero waste Valentine's Day without consumption.
1. Eco-Friendly Cards
Conventional cards are laminated with plastic, often covered with glitter (which is microplastic) and wrapped in a plastic foil.
You can do without this environmental sin. If a card is important to you, get creative (and personal) and make your loved one their own card out of cardboard. Better yet, get them an eco-friendly card that contains flower seeds, for example, for a wildflower meadow for bees, butterflies and other insects. In the spring, you can sow them together. This way, you will have a memory of your Valentine's Day for a long time and it is guaranteed eco-friendly and zero waste.
You can buy your plantable seed cards on Etsy, for example this handpainted one: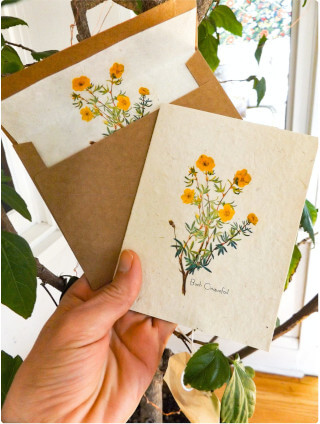 Plantable, handpainted card with seeds. Photo: ©MarissaKayApothecary @ Etsy.
2. A potted (edible) plant
Cut flowers are grown especially for this day in warmer countries and transported halfway around the world. By the time they reach you in cold February they are half dead already. What a waste, but there is another way. You can celebrate a zero waste Valentine's Day without pesticide-laden roses from abroad.
Give your sweetheart a potted plant instead. It will last much longer and, if well cared for, will brighten up their home or garden for years to come. Looking for something special? Choose an edible plant. I, for instance, love the wonderfully fragrant blossoms of small orange or lemon trees. Alternatively, go for a chili, banana, mango or lemonade plant.

Aloe plant wrapped in paper.
3. Zero waste bath & beauty products
What is Valentine's day without romance? Give your partner a box of deliciously scented and soothing bath bombs and beauty products. Your sweetheart will be delighted, especially if you try them out together that very evening. Decorate your bathroom with lots of scented candles and relax in the tub with a glass of wine.
Lush bath and beauty products come either in plastic-free or in recycled and recyclable packaging, which you can give back after use.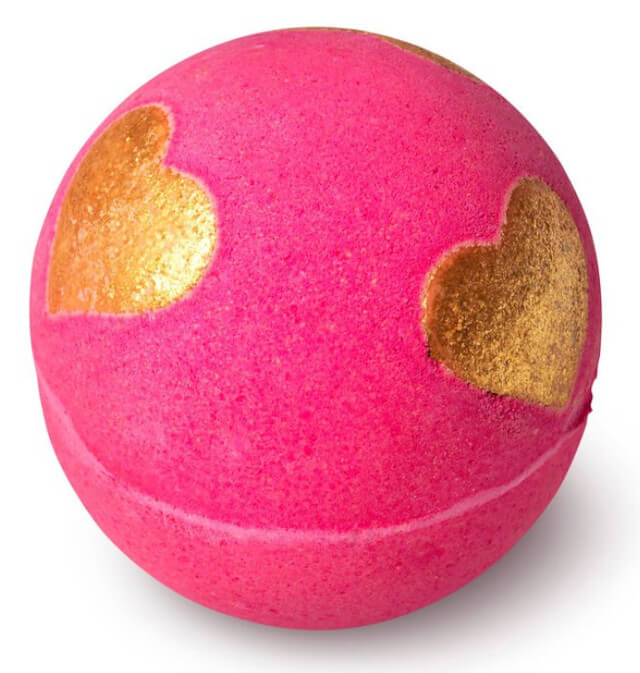 4. The Gift of time together
Everyday life has us firmly in its grip, so when do we ever get to spend quality time together with our partner? I, therefore, like to give the gift of time together. How you spend it is up to you, because you know your partner best. It can be a cooking session with a romantic candlelight dinner, a winter walk in a nearby forest, a sleigh ride, a day in a theme park, or a sightseeing trip to an unknown town. Let your romantic imagination run wild.

5. Zero Waste Chocolates
Obviously, chocolate cannot be missing in this list. But how does chocolate fit into a zero waste Valentine's Day? They almost always come packaged in tons of plastic. If your sweetheart is as much of a chocoholic as you are, I would surprise him or her with something out of the ordinary: homemade chocolate pralines! This is a great gift that your loved one will appreciate. On the one hand you can make exactly the chocolates that they like, on the other hand, you have control over the ingredients you're using. And they are not as hard to make as you think.
Zero waste chocolates
your zero waste Valentine's Day
I hope these tips on a zero waste Valentine's Day have inspired you to get more creative this year and think outside the box of consumerism and commercialism. Show yourself and your sweetheart that Valentine's Day can be different; romantic, focused on the essentials (your love for each other) and gentle on the environment. It doesn't take much more than a well-intentioned gesture to show your partner how much they mean to you. Let's be kind to each other.