Plastic-free Easter Egg Hunt
How to Organize a plastic-free easter egg hunt
Easter is a delightful time for both children and parents - the kids overindulge on chocolate, participate in Easter Bunny activities and have fun with the family, while parents enjoy the extra days off at the holidays and the opportunity to spend time with their loved ones. However, Easter is also known for its heavy use of plastic, as over-packaged chocolate Easter eggs and plastic decorations seem to be everywhere. Add to that plastic-filled baskets, plastic toys and disposable eggs. It's estimated that Easter egg packaging alone generates more than 8,000 tons of waste each year. Fortunately, there are ways to enjoy a plastic-free Easter, including a plastic-free Easter egg hunt.
How to plan a plastic-free Easter egg hunt
Planning a plastic-free Easter egg hunt is not as difficult as it may seem. Here are some tips to help you plan a sustainable and enjoyable egg hunt:
1. use reusable eggs
Instead of using disposable plastic eggs, use reusable eggs made of wood, metal or paper mache. These eggs can be reused year after year and filled with your favorite treats and treasures. Or just go all-natural and hide only real eggs that your kids can exchange for gifts and "treasures".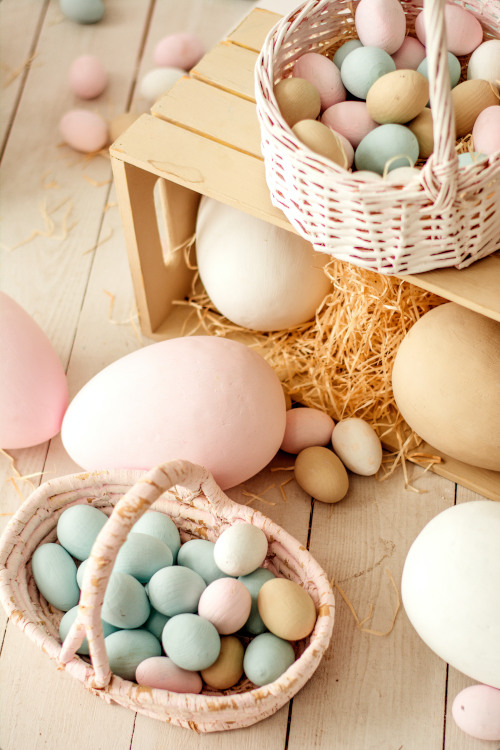 Use real eggs and natural materials to plan your Easter egg hunt.
2. decorate with natural materials
In your Easter basket, forgo the shredded plastic litter known as Easter grass. Natural grass (the first grass of the year is especially green and juicy), real straw, colorful newspaper or a cute Easter napkin will do the trick. If you already have plastic Easter grass around the house, pack it up after the holidays and reuse it next year. You can also replace your plastic decorations with natural materials like leaves and freshly greened branches. Use the first buds and flowers of the year for your table or Easter wreath and capture spring. Spring has so much to offer as nature renews itself. Let your creativity run wild.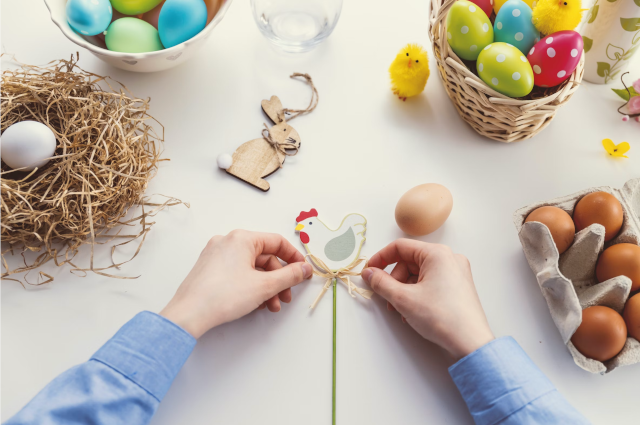 Decorating with natural materials like wood or straw is fun and encourages creativity.
3. avoid plastic baskets
Instead of a plastic basket, use a reusable bag or a basket made of natural materials like jute, cotton, wood or straw. These baskets are durable, environmentally friendly and can be used throughout the year for other purposes.
Use a basket made of real wood and line it with grasses or straw.
4. Opt for eco-friendly treats
When filling your eggs, opt for eco-friendly treats, such as fair trade chocolate, organic candy, or small toys made from natural materials. Avoid the many chocolates wrapped in excessive plastic or non-biodegradable items.
5. Encourage recycling and composting
After the egg hunt, encourage recycling and composting by providing separate bins for plastic, paper and organic waste. Teach children the importance of recycling and composting, and make it a fun and interactive activity.
The Benefits of a Plastic-Free Easter Egg Hunt
In addition to reducing plastic pollution, a plastic-free Easter egg hunt has several benefits, including:
1. increased sustainability
By using eco-friendly and reusable materials, you can host a more sustainable celebration that promotes responsible consumption and reduces waste.
Are you planning to host a garden party for your family or friends? Have a look at this post.
2. You and your kids can get creative
Branches and flowers do not come "off the shelf" for your table. And they don't all look the same either. Using natural materials and eco-friendly alternatives therefore forces you to let your creativity run wild (something we do far too little of these days) to create unique and natural decorations, baskets and eggs. Your friends and relatives will surely envy you for it.
Use whatever nature offers you to decorate your table.
3. positive impact on your children
By teaching children the importance of sustainability and responsible consumption, you can help them develop a sense of environmental stewardship and make a positive impact on our planet. Making crafts together with what nature provides gives them a sense of the passing of the seasons, nature's renewal, and a connection to all living things.
It's that easy to create a fun and sustainable celebration that benefits both your family and the planet - share it with your loved ones!