Plastic-free Garden Party
How to Throw a plastic-free garden party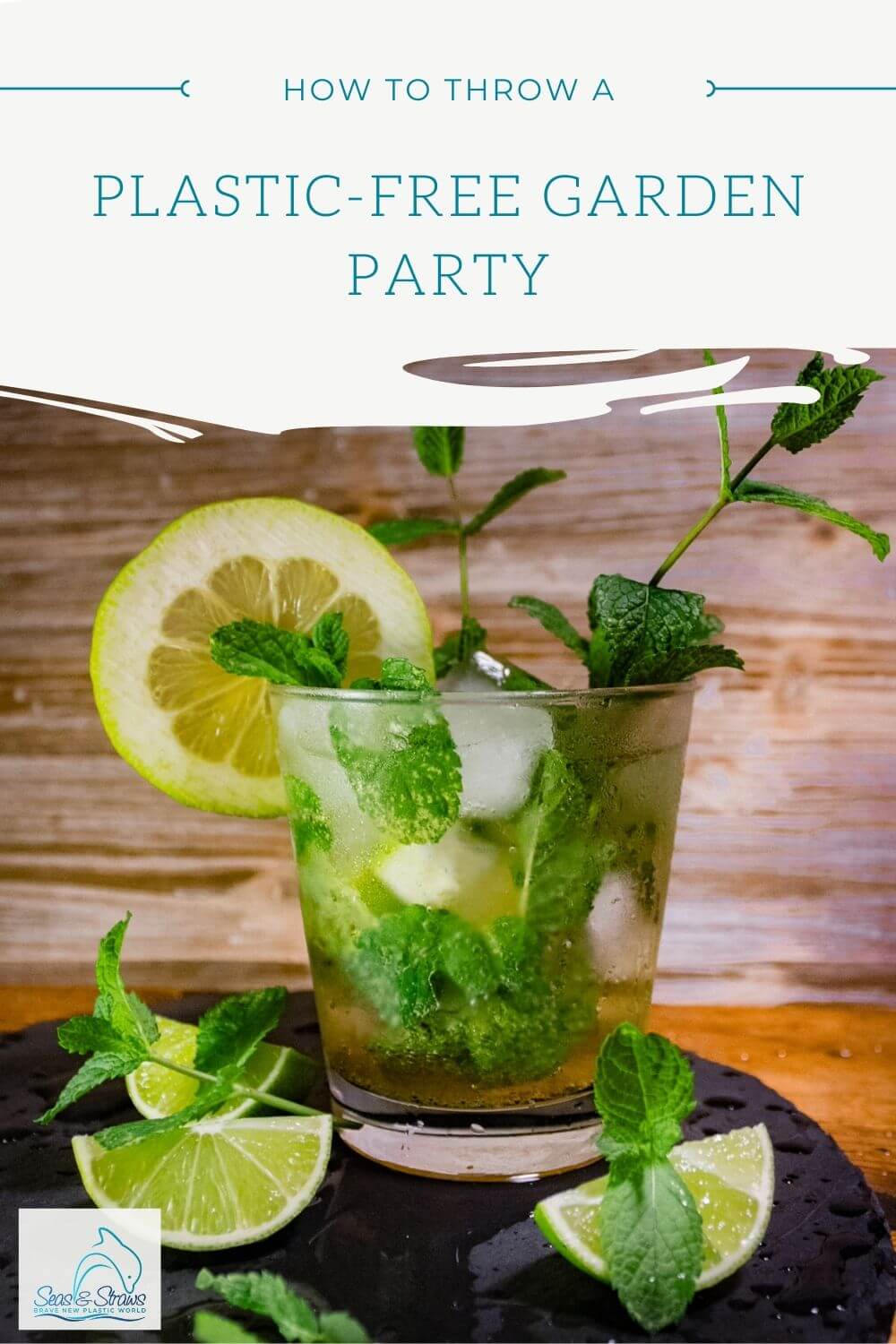 Finally, summer has arrived! The sun is shining, the birds are chirping, the flowers are blooming and it is light and warm until dark. The perfect weather for the first garden party of the year. Are you looking forward to it as much as I do? I love sitting outside with friends and talking or listening to music all night. Unfortunately, though, most parties are anything but eco-friendly. To the contrary, they use an abundance of single-use plastics. 
It doesn't have to be. 
I've gathered some ideas on how to turn a plastic-polluting party into an eco-friendly, plastic-free party.
Invitations
Do not send printed invitation cards unless you have them printed in an environmentally friendly print shop. A nice email will do just as well. I'm sure your friends will understand - after all, we are in the digital age.
I do have an alternative, though: How about cardboard invitation cards that contain seeds? After they read your words, your friends can plant them in their garden and watch the flowers grow. Isn't that a nice idea? It also puts them in the right mood for your plastic-free garden party.
You can buy your plantable seed cards on Etsy, for example this handpainted one: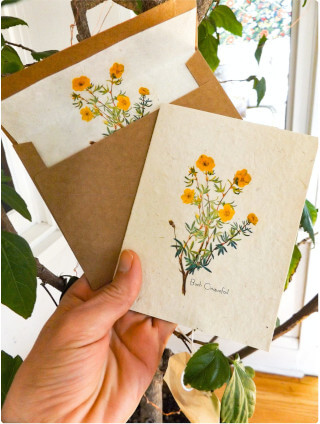 Plantable, handpainted card with seeds. Photo: ©MarissaKayApothecary @ Etsy.
Glassware
Please, do not buy plastic cups. Not even these "unbreakable" plastic champagne flutes that you always want to reuse but never do.
I believe that adults can be trusted with glass (of course it is more difficult with children around). If you fear that your guests will break your valuable cocktail glasses, you can buy a set of mason jars. They are thicker and less likely to break than normal glasses. They are also quite inexpensive and you can buy them in different colors. And how about adorning them with the names of your guests? That prevents mix-ups and gives your table a personal touch.
And finally, mason jars not only look great with colorful lemonades, but are also suitable as table decorations or candle holders.
You can buy them at IKEA or this set on Amazon.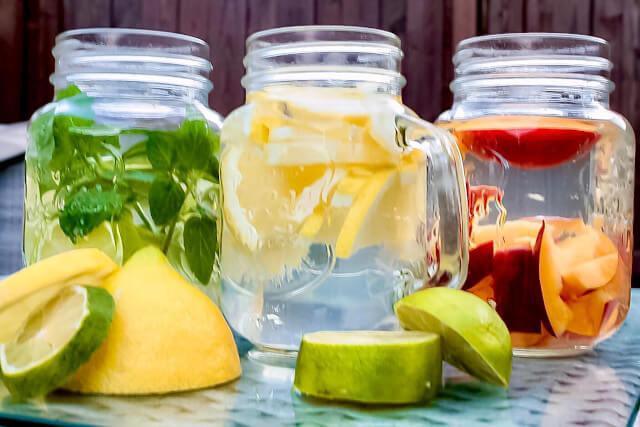 Mason jars look great with colourful lemonades.
Stainless Steel Cups
If you do not trust glass, you can buy stainless steel cups. The recycled and recyclable Enviro-Cups are perfect for your garden party. They are durable, unbreakable, non-toxic and dishwasher-safe, yet lightweight and completely safe for children. And you can even brand them with whatever you like, from your child's name and date of birth to the names of bride and groom at a wedding. 
Wooden, Bamboo or leaf Plates
You can either use real ceramic plates and place a small bowl of water in a corner so that your guests can put their plate in the wash bowl after use.
If you don't have enough plates for everyone, compostable plates made of bamboo, wood, sugar cane or leaf (palm leaf or banana leaf) are a good alternative. They are labelled as single-use, but can be hand washed, dried and reused without problem. Or you put them straight into the compost bin after use. That's not as eco-friendly as reusing them but at least it's zero waste.
There is more than enough choice on Amazon, for example THIS SET.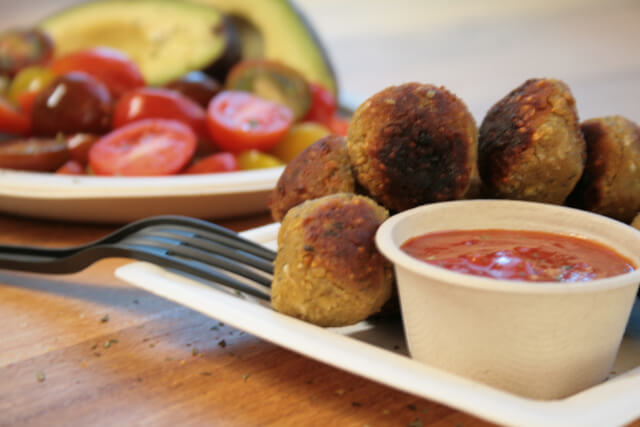 Eco-friendly plates and bowls made of bamboo or sugar cane can be found in various sizes. Photo: Seas & Straws
And whatever you do, don't use paper plates. They are lined with a layer of plastic that makes them non-recyclable. That means: they almost definitely end up in a landfill. Besides, did you know that it takes 8 gallons of water to make one (!) paper plate?
Wooden or Bamboo Cutlery
Of course, you can use your everyday cutlery. After all, what's more unbreakable than steel? They can be put in the wash bowl during the party and in the dishwasher later on.
Alternatively, there are cutlery sets made of wood or bamboo. They, too, can be hand washed and reused even if it does not say on the label.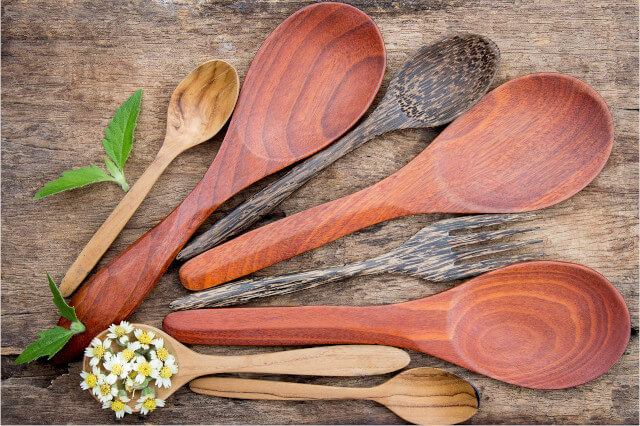 You can find reusable cutlery sets in various kinds of wood.
Reusable Cloth Napkins
Swap the single-use paper napkins for reusable cloth napkins. You can buy them in bulk in various colors HERE. After the party, simply throw them in the washing machine and go to bed. Easy.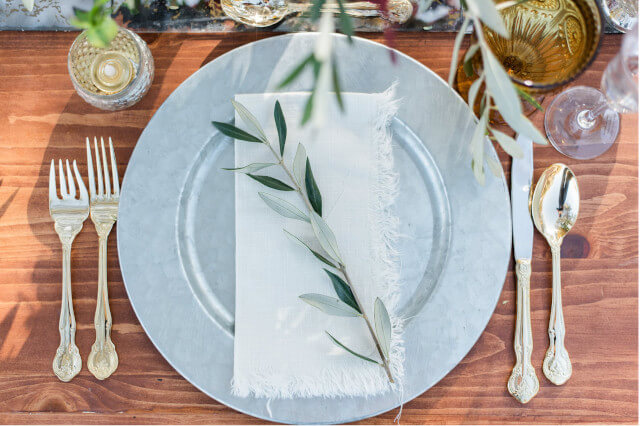 Reusable cloth napkins are available in various colours and prints.
Homemade lemonade
Save yourself the bulk purchase of disposable water and soda bottles. Instead, make your own lemonade or iced tea (virgin or spiked, it's up to you) and serve it in reusable glass carafes or drink dispensers. For instance, you can make 3 or 4 different lemonades - a yellow (lemon), a green (cucumber or lime), an orange (orange) and maybe a red one (strawberry or a berry mix) and place them next to each other on a side table. Looks yummy, doesn't it?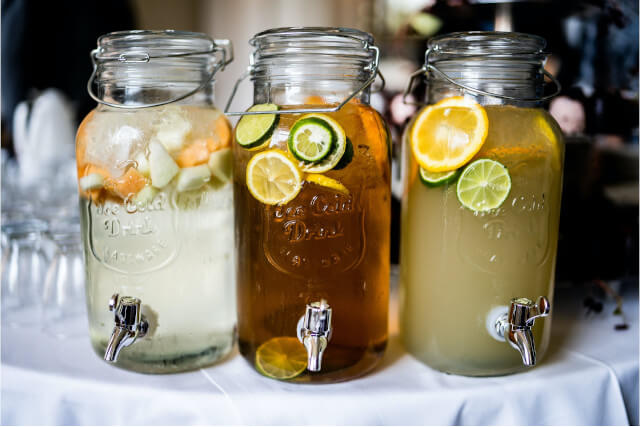 Colourful lemonades make a good impression on every garden party.
 Compostable or reusable Straws
Let's be honest - do you really need a straw? I bet you don't. And depending on how far along on the zero waste path you are, you probably haven't used one for quite a while.
Your guests might still be used to drinking their lemonade with a straw, though. Well, you can either start a discussion on how bad straws are for the environment (if you need arguments, check out this article), or you simply offer them a straw straw. Yes, you read that right: there are straws made of pure straw. There is nothing more natural and zero waste. They are produced locally and can simply be thrown onto the compost after use.
Bamboo straws are a little more stylish (and reusable, thus cheaper in the long run). They look great in a mason jar and add to the whole back to nature theme that your plastic-free garden party is establishing (read more about reusable straws here).
And before you ask, paper straws are not a good idea. Just like paper plates, they are lined with a layer of plastic which makes them non-recyclable. In addition, they are sealed with a glue which is often not approved for food. That means, the toxins of the glue will spread into the drink and eventually, into our body. 

Homemade dips and sauces
Buying dips and sauces in plastic packaging generates an awful lot of plastic waste.
Why don't you make them yourself instead? I know, it's more work, but you do not have to make 10 different varieties. A herbal and a garlic butter, a guacamole and maybe a spicy dip are quite enough. All of them are easy to prepare and there are plenty of recipes online.
Serve in coconut shells or in wooden dip bowls. They fit in nicely with the bamboo or leaf plates and wooden cutlery and complete your country-style garden party theme. And of course, you can also use them for crisps and pickles. 

Reusable Food Wraps
Do not wrap salad bowls or fruit bowls in aluminum foil or cling film. Reusable beeswax food wraps do a great job of keeping your food fresh. They wax also has antibacterial properties, so the wraps can be used for everything except raw fish or meat. After use, simply wash in lukewarm water and let dry. Do not use hot water, this would melt the wax layer.
If you want to grill meat or veggies in a foil, try banana leaf (for that unique touch again). Corn can be grilled in its own casing.
Compostable Cocktail sticks
There are skewers made of bamboo, wood or stainless steel. Rosemary stems also work and give your food a particularly exotic touch. And they smell nice on the grill.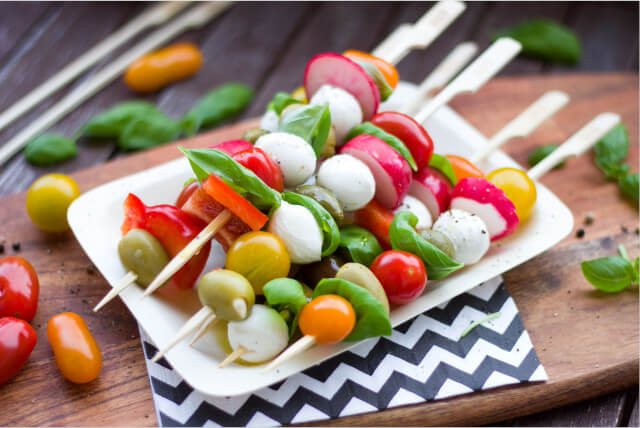 Wooden cocktail sticks look great with colourful vegetables.
A natural Decoration
Avoid plastic decorations and balloons. Seriously, balloons are the worst. They fly for miles, but ultimately they do come back down. If this happens in the countryside or near water, they can be eaten by animals. The ribbons could choke birds and fish.
Instead, get creative and use fresh herbs, plants, branches, or flowers from the garden. They look beautiful and smell nice.
Candles in mason jars, fairy lights or lanterns also look great and give a wonderful light.

More tips and suggestions
Throwing a garden party is a lot of work. You have to prepare the food and the drinks, set the table and entertain the guests. And when the party is over, the whole mess needs to be cleaned up, the dishes washed and the leftovers stored away. 
You can make your life a little easier by putting several clearly labeled bins in your garden: for the compostables, the recyclables and the non-compostable waste. Plus, a bowl for the used cloth napkins that go straight into the washing machine, and another one for the plates and cutlery that go into the dishwasher.
Leftovers can be stored and frozen in glass jars with bamboo lids. If you serve the food in these jars, you can simply close the lid and put them in the freezer. 
It's your turn
What do you think about this list? Is there anything else you would like me to add? Then let me know. I'm always happy to hear your suggestions. :-)