The Enviro-Cups Will make your event sustainable and zero waste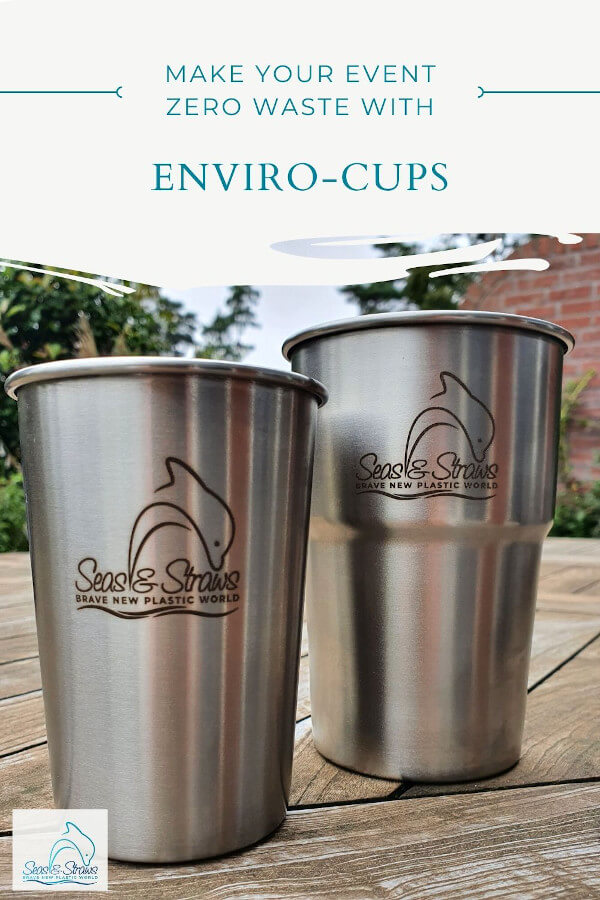 If you followed me for a while you know how much I love bamboo and stainless steel as a material. I especially loved my chic.mic bamboo cup. But ever since I found out it was not as harmless as the producers made me believe, I was looking for a better (non-greenwashed) substitute.
All the more delighted I was when the UK company Enviro-Cup approached me and asked me to test and review their reusable stainless steel cups. So I did, and I am thrilled. 
The cups are actually intended for larger events and festivals that struggle with an insane consumption of single-use plastic cups every year (over 100 million in the UK alone!).  I, however, would like to recommend them for daily use and your own, smaller events as well.
Just think of all the garden parties, BBQs, children's birthdays, charity events, community events or weddings you attend throughout the year. At all these events, plastic cups are handed out and thrown away after being used for only a few minutes. Most of them end up in landfills. That can change now. No more disposable cups, because the Enviro-Cups are perfect for every event, small or large.
The packaging
The first thing I noticed was that the cups were delivered in a packaging that was completely free of plastic. They came in a rigid cardboard cylinder and were "padded" with some flyers informing about the company. Around the cylinder was another thick layer of cardboard printed with the company logo and some characteristics and instructions. All of this was wrapped once more in paper and sealed with paper tape. The whole package was incredible stable.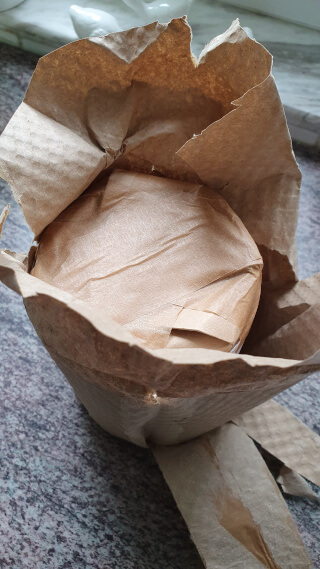 Unboxing: Paper wrapping around ...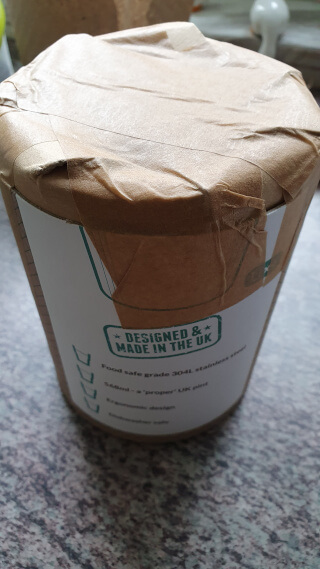 ... a cardboard cylinder.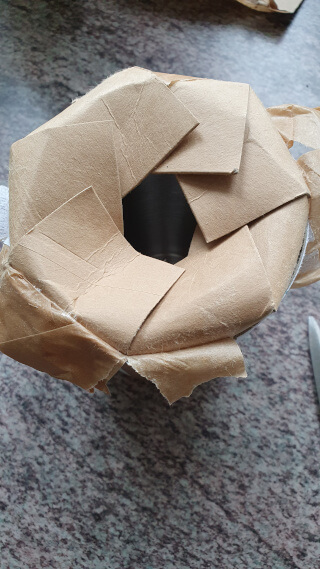 A rigid cardboard cylinder ...
... holding my 2 cups.
The cups - how do they look?
Inside the cylinder were two cups, a larger pint-sized one (equals 568ml) and, inside that, a smaller one of 350ml. The cups are made from brushed silver and look great - simple and elegant, with a smooth, satin surface. 
And the best of all? Enviro-Cup engraved them with my own Seas & Straws logo! I had not expected this and I am thrilled! The engraving is of very high quality - just black on silver - and with the satin finish of the cups it looks really professional, stylish and minimalistic. Exactly my style. I truly like my logo on these cups!

What are the Enviro-Cups made of?
They are made of recycled and recyclable 304 food grade stainless steel.

How do they feel?
I think they feel really good. Both cups are ergonomically designed so that you can hold them easily in your hand, and the santin finish is smooth yet non-slip. They are also surprisingly lightweight, despite being of high quality.
I especially liked the feeling of the smaller cup in my hand and I can well imagine myself standing at a garden party, sipping champagne or wine and making an impression. :-)
It also looks great with a matching stainless steel straw, if you fancy cocktails.

The larger, pint-sized cup feels just as good and is perfect for beer.

I also found drinking from them very pleasant. The rolled lip provides perfect drinking comfort. 
I know that some people don't like the feel of metal between their teeth and therefore can't stand steel straws.
You have to find that out for yourself. I really like drinking from them. I can't detect a metal aftertaste and the cups never touch your teeth. 
The rolled lip provides perfect drinking comfort. Photo: ©Seas & Straws
Do they smell and taste of anything?
When I opened the cardboard box for the first time, both cups smelled and tasted slightly of metal. I don't see this as a disadvantage, though, since they are, after all, made of metal.
The important thing is that I could not detect any chemicals or anything else that did not belong there. After the first round in the dishwasher and the first drink with something other than odorless and tasteless water, the smell was completely gone.
By the way, steel is inert to odors and flavors, so the Enviro-Cups will not take on the smell and taste of your last beverage.
Are the 
Enviro-Cups
safe?
Yes, they are made of 100% stainless steel, which is safe for food and drink. Unlike plastic, the surface of steel is smooth, it has no pores and cracks which could harbor dirt or bacteria, and it does not scratch. This makes the Enviro-Cups extremely hygienic and easy to clean.
Moreover, they are stain and corrosion resistant, and inert to acidity.
And most importantly, while plastic is proven to leach toxic chemicals like BPA or phthalates into the food and drink, stainless steel is non-toxic and does not leach anything into your beverage (For more information on stainless steel click here).
Side note: This is also a big advantage over the bamboo cups that are so popular today, and which have now also been found to contain toxic substances that migrate into the drink at temperatures above 70 degrees Celsius.
Even so, the Enviro-Cup has been rigorously tested and meets all European standards.
What are the benefits of Enviro-C
ups
?
The Enviro-Cups are much more sustainable and eco-friendly than disposable cups.
For starters, they are made of recycled stainless steel, thus bypassing the polluting and energy intensive production process. In contrast to plastic cups, they are also infinitely reusable. You buy them once and you can use them for years - a lifetime, even. Stainless steel cups are durable, unbreakable, non-toxic, hygienic and antibacterial, yet lightweight and completely safe for children. They will not lose quality over the years, and they will not get scratched. After each event they are easy to clean by simply putting them in the dishwasher. And if you do want to throw them away after years of use, they are 100% recyclable.
But the biggest advantage is that the cup can be branded with your own company logo, name or design. The possibilities here are endless. What about the name of the bride and groom at a wedding, name and date of a birthday child, or logo of the community event? They also make great company gifts when engraved with the company logo.
A branded cup is great for marketing your event: visitors can pay a small deposit for "their" cup and use it for the duration of the evening. At the end they can either take it home as a souvenir or return it against the deposit. This system has proven to be very successful.
And for festival-goers especially, Enviro-Cup developed two really cool cup holders so that you have both hands free to dance.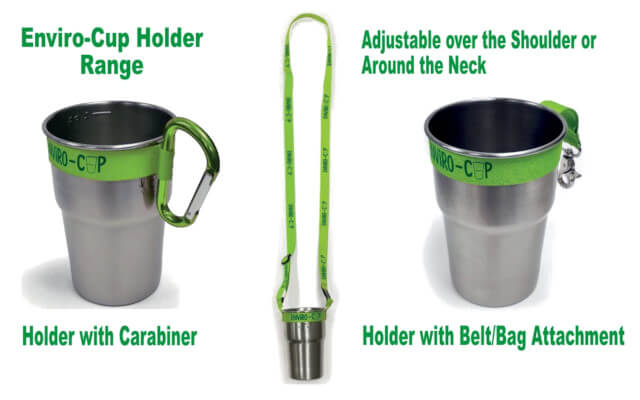 Enviro-Cup holders. Photo: ©www.enviro-cup.co.uk
If you are not hosting a party but attending one, take the Enviro-Cup with you, refuse the disposable plastic cup that is handed out to you and start a conversation about sustainability. You might even change a few opinions and convince people to do without plastic.
And since the cup is so robust and virtually unbreakable, you can put it in your purse and take it with you wherever you go. For that purpose, Enviro-Cup offers a colourful silicone lid, so that you don't spill your (cold) drink while on the go.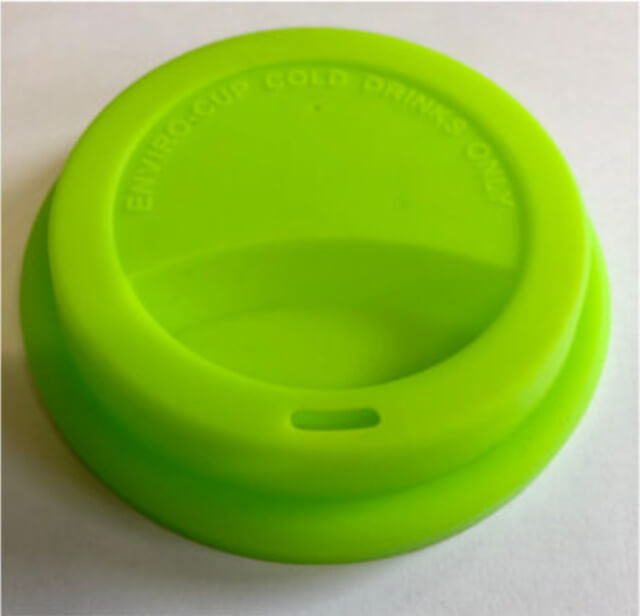 The colourful Enviro-Cup silicone lid. Photo: ©www.enviro-cup.co.uk
Are there any disadvantages?
Their diadvantage is also their advantage. Stainless steel is very conductive to heat and cold, and these cups are not thermally insulated. This makes them unsuitable for hot drinks (you will burn your fingers and mouth!). Cold drinks also feel really cold, but, on the upside, they stay cool longer than in a plastic cup.

Are the 
Enviro-cups dishwasher safe?
Yes, the cups can be easily washed in the dishwasher, which is very convenient if you want to use them at parties, weddings or festivals. No washing them by hand, just fill the dishwasher when the party is over and go to bed.
Can you microwave the Enviro-Cups?
You know that you should never put metal of any kind in the microwave, right? :-)
The cups are not suitable for hot drinks anyway, as you will burn your mouth. It's also written on the packaging.
Summary
I really liked both cups. With their modern, elegant look, they fit into any kitchen, and their soft, satin finish feels great in my hands. They are comfortable to hold and to drink from, and do not leach toxic chemicals into the beverage.
But of course, their biggest advantage is their sustainability: They are made from a recycled material, last a lifetime and are completely recyclable, which makes them a sustainable, eco-friendly alternative to single-use plastic cups at any party or event, no matter how large or small.
Thank you, Enviro-Cups, for providing these cups and for making the world a better (plastic-free) place.
Note: I received these cups for free in exchange for a thorough testing and an honest, unbiased review. All views are my own.