A simple guide to a plastic-free christmas
Christmas is here! It's a time for coziness, gathering around candlelight, cookies and delicious food. But unfortunately, it's also the time of plastic tinsel, plastic decorations, and plastic packaging. The abundance of non-biodegradable and non-recyclable materials at Christmastime somewhat dulls the joy of the holiday. Here's a simple guide to a plastic-free Christmas.
Nature or Plastic - The Christmas Tree
Nature or plastic? Both have advantages and disadvantages. I'm not a big fan of plastic Christmas trees, of course, and have never had one. Aside from the known problems with plastic, the carbon footprint of an artificial tree can be as much as 40 kg of CO2. Additional CO2 is generated by transportation from the country of manufacture. So if you already have a plastic Christmas tree, you should use it for at least 12 years to reduce the number of trees that end up in landfills.
I love the smell of natural fir trees at Christmastime, but I also hate that so many trees are cut down each year to celebrate our holiday. The solution: consider renting a natural tree from a nearby tree farm. It will be delivered to you in a pot and can be returned after the Christmas season, where it will be replanted. You can even rent the same tree again the following year, so you can watch "your" tree grow and thrive.
plastic-free Christmas Decorations
There are several options: You can reuse last year's decorations, buy plastic-free decorations (not so easy) or make your own decorations from natural materials like pine cones:
Go for a relaxing walk in the forest and look for fir branches, pine cones, leaves, chestnuts, etc.
Use twine to hang them on your tree, and arrange them on the dinner or gift table. Make a wreath using real pine.
Dried orange slices, cinnamon sticks or cloves also make great tree ornaments and gift tags.
Fir branches, pine cones, leaves, and chestnuts make for beautiful plastic-free Christmas decorations
An additional tip: edible decorations make cleanup even more fun! Hang homemade Christmas cookies on the tree or use popcorn and cranberry strings to add a little sparkle to the tree.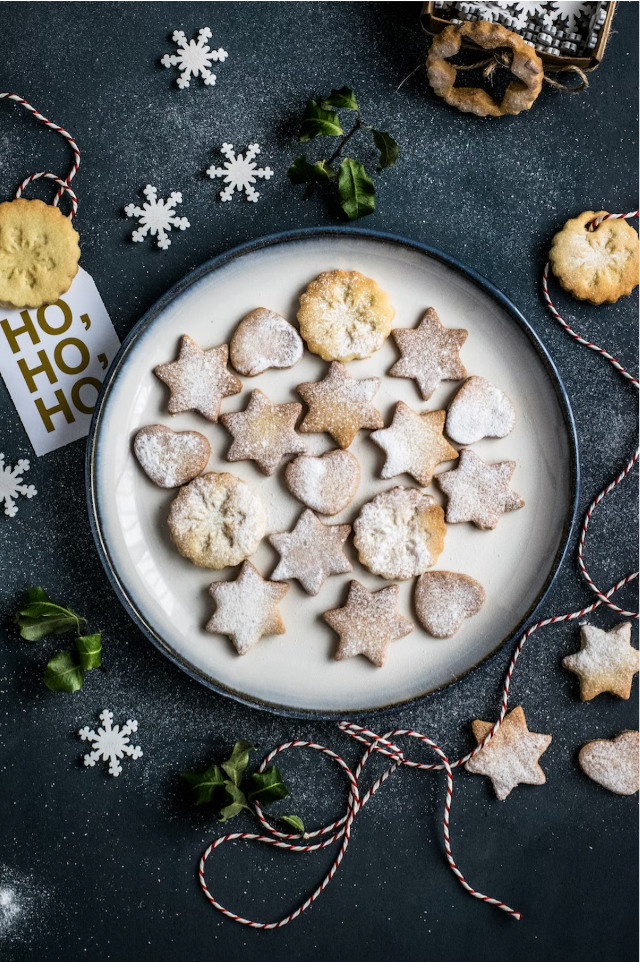 Christmas cookies are a great edible tree decoration
Take inspiration from nature. Your festive season will not only be much more relaxing, your house will also smell divine.
Waste-free Christmas meals
A little bit of pre-planning goes a long way to making sure you're not so caught up last minute that you end up going for plastic-packed quick meals and treats that are typically transported great distances to end up in your supermarket. Here are a few tips for a more sustainable Christmas meal:
Buy all ingredients locally and take a shopping bag with you to avoid single-use plastic bags.
If you're short on cookware or serving dishes, borrow them from friends or relatives instead of buying plastic disposable dishes.
Use cloth napkins and decorate your table with natural materials.
Decorate your dinner table with natural materials.
The art of plastic-free Gift-giving

Did you know that traditional wrapping paper is coated with plastic and cannot be recycled? Worse, it's often coated with glitter, which is nothing more than tiny pieces of plastic (microplastics) that are rubbed off the paper and often end up in nature and the oceans. Don't buy new wrapping paper this year. Instead, wrap your gifts in old newspaper, butcher paper, paper bags, fabric or a scarf (which becomes part of the gift). Use plastic-free, biodegradable, paper-based tape. Decorate with twine, tree bark, pine cones, cinnamon or dried oranges.
You can also pick up a new skill and learn the Japanese art of furoshiki, which involves wrapping gifts in strips of fabric.
There are more than enough eco-friendly options, just be a little creative.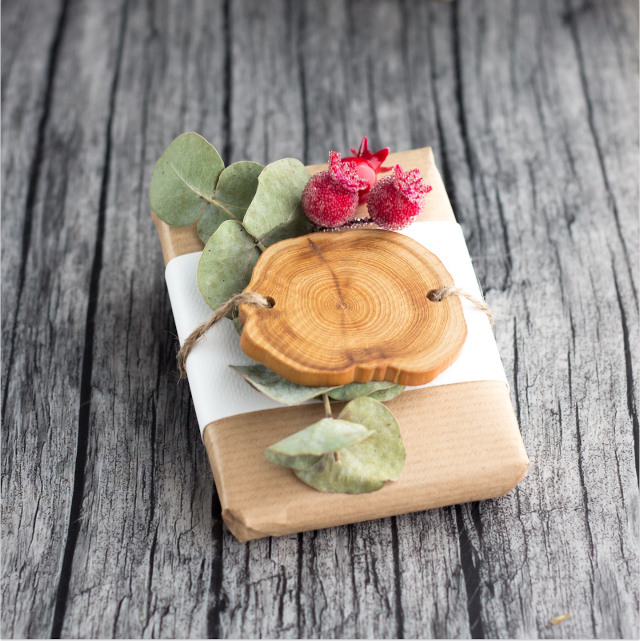 Wrap your gifts in in paper and decorate with natural materials.
The gifts themselves can also be plastic-free! Keep an eye out for my next post where I share some of the best plastic-free gifts for Christmas in 2022.
Looking for the perfect gift for your loved ones?
Then Get Your Weekly Planner  Plastic-Free Through The Year - Week by week to a life without plastic.

The planner is undated, so you can start any time, and it will accompany you for a whole year! Get it now and start your plastic-free journey!