Zero-waste Halloween Costume Ideas
Simple (And Quick!) Zero-Waste Halloween Costume Ideas For 2023
It's time to let our creativity run wild and celebrate all things spooky because Halloween is creeping up on us. While it's a moment to have fun, it can also be trashy as some buy costumes only to throw them away after use and leave a scary trail of waste to what's already piling up in the landfills or floating out in our oceans. 
But really, who says we can't have a blast while being eco-friendly, too?
I've prepared a guide on how to make a fantastic costume that screams in style but with minimized environmental impact. And in case you haven't made plans yet and need some inspiration, I've inserted some simple Halloween costume ideas you might want to go for.
#1: Start with What You Have
First stop? Your closet. Look through your wardrobe and search for clothing, shoes, and accessories that you no longer use or wear. Who knows, you might find a gem that you forgot about. Perhaps a black dress or a suit that can be transformed into a Wednesday Adams or a superhero costume? Mix and match and get creative in using what you already own to create a unique and personalized look that fits your style and theme.
Costume idea #1: Wednesday Addams Costume
Consider dressing in all-black to look as gloomy and intriguing as Wednesday Addams herself. All you need is a black dress, knee-high socks, black shoes, and pigtail-braided hair. To complete the look, do a smokey eye and add a little smudged black eyeliner along with a dark lip color. It's as simple as that!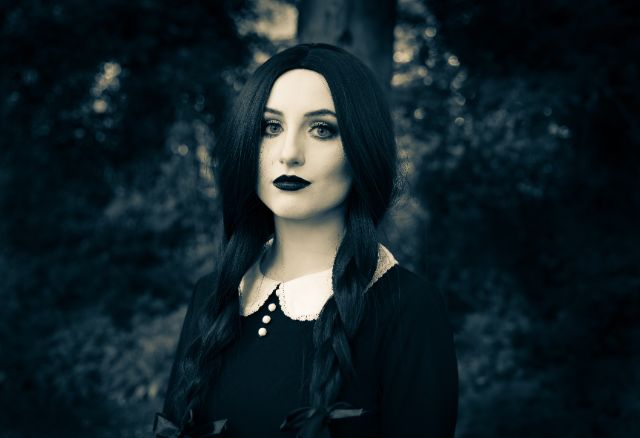 In the mood for a creepy and gloomy costume? Wednesday Addams is the perfect choice.
#2: DIY and Upcycle
Summon your DIY skills and bring a fresh look by upcycling old clothing, fabric scraps, or household items into a fun costume. Whether it's a cardboard box turned into a spaceship or old sheets transformed into a ghost costume, upcycling allows you to express your creativity, breathe new life into forgotten items, and make something truly one-of-a-kind, all while minimizing waste. The possibilities are endless, and all it takes is a bit of imagination and some basic skills.
Costume Idea #2: A 'Cool' Ghost
This is the simplest of all - a ghost. Take a white bedsheet or blanket you don't use anymore and cut two holes in it for your eyes. Let it drape down over your head and put on some sunglasses to complete your cool look. Of course, you can spice it up however you like. Get creative!
The most iconic Halloween costume: the ghost
#3: Swap or Borrow
This one's fun. Why not organize a costume exchange with your friends or neighbors? Instead of buying new costumes, everyone can swap costumes from previous years, giving everyone a chance to try something new without hurting your wallets — this is a great option to reduce fashion waste, too. You can also try setting up a swap shop where people can drop their old costumes and find something new to wear.
Costume Idea #3: The Eras Tour Outfit
You don't need to buy a new outfit for Halloween. Just recreate your concert attire and rock it, reliving the excitement of "Cruel Summer" in style. Just remember to sport your friendship bracelet to perfect the ensemble.
#4: Use Natural and Biodegradable Materials
If you need to purchase materials for your costume, choose natural and biodegradable fabrics such as cotton, hemp, or bamboo. Avoid synthetic materials such as polyester or nylon since they take hundreds of years to break down and can contribute to the buildup of waste in landfills. Take a step further by picking items that can be easily composted, such as leaves or flowers, which are also things that you can easily find in the backyard.
#5: Be Minimalistic
Simplify, simplify, simplify! Resist the urge to add unnecessary bling, putting more weight on your costume and making it less comfortable to wear. Keep it simple and minimalistic to reduce the number of materials used. Remember, less is often more when it comes to design. Also, unless you actually wear wigs on a regular basis, avoid choosing a costume that requires you to purchase a ton of accessories that you won't ever use or wear.
Costume Idea #4: Work From Home Employee
I don't want to make things difficult for you. So, here's a simple idea: put on your best-looking formal shirt or blouse, pair it with pajama pants, hang a headset around your neck, hold a coffee mug, wear your comfiest slippers and warmest pair of socks and now you're a WFH employee. Simple but iconic!
Do you still go to the office every day? Then why not try this home office outfit for a day?
#6: Try the Recyclable Ones
If you really like to keep the decorations, then opt for recycled and recyclable materials. Old newspapers, cardboard, and paper can be shaped and painted to create impressive accessories or props, with the added bonus of being eco-friendly. When the holiday is over, these can be recycled or repurposed for other crafts too.
Costume Idea #5: Barbie
Barbie has remained a famous character up to this year. So, if you want to create a look that is inspired by her, then choose a pink dress or outfit that embodies her signature style. Accessorize with oversized sunglasses, large hoop earrings, a necklace and high heels.
Got something pink in your closet? Go as Barbie!
#7: Rent Your Desired Character for A Day
If you're still having trouble coming up with a Halloween costume or must dress up as a certain character this year but don't want to make the commitment to buy one, then consider renting one. Nowadays, a lot of clothing or costume stores provide rental services, which is fantastic, especially for parents whose children will likely outgrow their costumes by the next Halloween. This may also be a more affordable choice for you.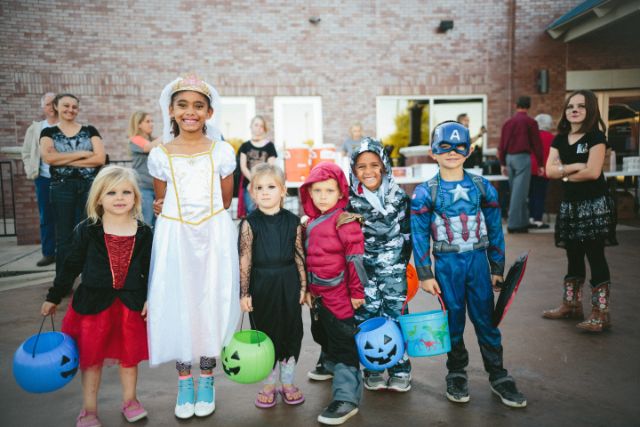 If you don't want to buy something new for your kids, rent a Halloween costume.
I hope you have some great outfit ideas for Halloween. I want to see how creative you can get with your zero waste costumes! Show me what you came up with by tagging @seasandstraws in your social posts and stories, and hash tagging #zerowastehalloween.
---
If you want to make your whole Halloween party zero waste and eco-friendly, read more about natural decorations and candy here and here.