22 zero waste travel essentials, 
Part 2: Out And About
Traveling zero waste and plastic-free needs more preparation and planning than a traditional trip. It also requires more steadfastness and mental strength. Many people who are very environmentally conscious in their everyday lives forget this all too quickly when they visit foreign countries. They become wasteful, buy plastic bottles in local supermarkets, order takeaway food in plastic containers, and sip their cocktail on the beach with umbrellas and plastic straws. One reason for this is that on holiday you fall into a relaxation mode in which you simply want to enjoy without having to restrict yourself. Another reason is that in foreign countries you often do not have the shopping possibilities you have at home. The eco-conscious traveler must, therefore, anticipate such circumstances and prepare for them. The aim of this 2-part guide is to optimally prepare you for you next zero waste holiday. 
Now, you might be wondering why I am writing about plastic-free traveling right now while we are all in the Covid-19 lockdown. But the lockdown will be lifted again, maybe as early as this fall, and the next trip will come for sure. I am convinced of that. All the more time you have to prepare your next eco-friendly trip now. Have fun. :-)
13. ecological and
reef-friendly
sun protection
Buying the right sunscreen is very important. For starters, most sunscreen products contain a myriad of chemicals, allergens and micro-plastics. In addition, they are usually delivered in plastic packaging that cannot be recycled. But the worst thing is that conventional sunscreens have a devastating effect on coral reefs. So much so that some tropical holiday destinations like Hawaii, Palau, Key West or Mexico have already banned conventional sunscreens. A good choice, considering that every year about 4,000 to 6,000 tons of them end up in the oceans. This makes it all the more important to look for a natural, plastic-free, and reef-proof brand. Try All Good, Raw Elements, or BeeYou.

All Good sunscreen is organic and reef-friendly. Photo: ©lifewithoutplastic.com
14.
eco-friendly
and sustainable clothing
The fast fashion industry is one of the biggest environmental polluters in the world. If you want to pack a truly eco-friendly suitcase, switch to natural fabrics like cotton or linen and look for sustainable clothing brands that use ecological dyes. Nowadays, there are clothes made from recycled plastic bottles or and a Taiwanese company called Singtex makes odor-eliminating, waterproof fabric from used coffee grounds. Sounds cool? It is!

15. flip-flops made from natural materials or recycled ocean plastic
Lost and tossed flip-flops are a common find during beach clean-ups. Because they are made of soft plastic, they wear down easily in the sea and release microplastic into the water, which in turn is eaten by animals. There are flip-flops made of natural materials such as palm leaves, wood, cork, or papyrus. Adidas makes flip-flops from recycled ocean plastic with a sustainable cork footbed. Obviously not plastic-free, but they pull plastic from the ocean and use it for something good.
16. sunglasses made from recycled materials
Yes, you can even buy sustainable sunglasses. There are some cool brands out there that make shades from recycled bamboo or wood, upcycled ocean plastic, fishing nets, skateboards, or even wine corks. Check out Los Angeles-based startup, Bureo, or Texas-based Vineyard Sun.
17. a reusable stainless steel water bottle
Disposable water bottles are indispensable for many people, especially when traveling. But it doesn't have to be. Reusable stainless steel water bottles are much healthier, last for years, and are available in all sizes, depending on how long you are on the road. I have various bottles in all sizes, ranging from 1l, 0.5l, 0.33l, and 0.25l. Fill them up before you leave.
Traveling to countries where the water is not potable? Buy a filtered water bottle, for example from Dopper, Steripen, Grayl, or Lifestraw.
This makes you a truly independent traveler.
18. a plastic-free travel mug
Bringing a reusable travel mug may be a little unwieldy, but it pays off. You can give it to the stewardess or the train attendant and ask them to refill it instead of giving you a new disposable water cup each time. On your city trips you can take it to the coffee shops, because many of them already give you a discount if you bring your own cup. Imagine how many non-recyclable cups you will keep from going to landfill!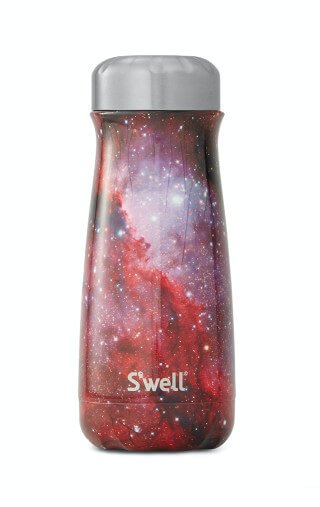 The S'Well Traveler Mug. Photo: ©swell.com
19. a steel or bamboo straw
A reusable straw belongs in the pocket of every traveler. Whether you prefer a light bamboo straw, a robust metal straw or even a small foldable travel straw is up to you. They all come with a cleaning brush and fit in every bag, no matter how small.

20. a reusable snack bag
Plastic-wrapped mini snack offerings on the plane, train, or the hotel's minibar cause a lot of unnecessary plastic waste. You can easily avoid this by filling a small reusable snack bag with your own (healthy) favorite snacks before you leave the house. I prefer nuts and raisins, but if you consume them right away, you can also chop up carrots or cucumbers before you leave the house.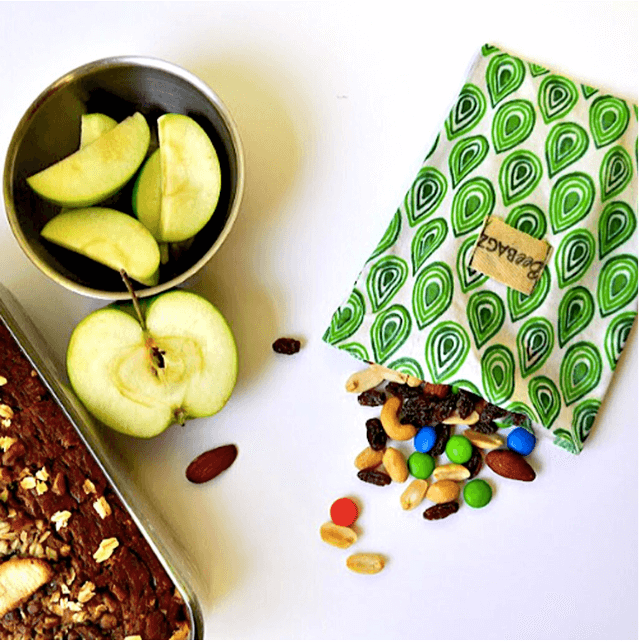 This reusable snack bag is made with 100% natural ingredients. Photo: ©lifewithoutplastic.com
21. a reusable utensil set
Depending on where you're going and the type of holiday you're planning, you may also want to bring a set of reusable stainless steel, wooden, or bamboo utensil set. It could come in handy and save many disposable plastic forks, knives, or spoons from going to landfill. The bonus: you know it's always clean because no one but you touched it.
A Reusable Bamboo Cutlery Set. Photo: ©lifewithoutplastic.com
22. a reusable shopping bag
Take a reusable canvas bag with you. Many countries, such as Asia, are not as environmentally conscious as we are and simply pack everything in plastic, and then in plastic bags (sometimes 3 or 4 times!). You will probably never be able to travel completely plastic-free in Asian countries, but you can make an effort and maybe start a discussion along the way. Good luck with that!

Conclusion
That's it. Whatever your next getaway, whether it's a city trip, relaxing on the beach or a hiking tour in the mountains, with these 22 zero waste travel essentials you should be more than ready for your first plastic-free, eco-friendly holiday.
I'm already looking forward to when we can finally travel again. What will be your first destination once the lockdown is over? Let me know. I'm looking forward to your message.