Fancy a Zero Waste bathroom? Here's your ultimate list
Next to the kitchen, the bathroom is arguably the room with the most unnecessary plastic in the house. Shampoo, shower gel, toothpaste, toothbrushes, razors, etc, there's a lot to do here if you want to make this room plastic-free. So let's get to it!
Here is my ultimate list of plastic-free swaps in the bathroom.
1. Solid soaps
Many may remember the old hand soaps in grandma's house before it became fashionable to use liquid soaps. Not only were these zero waste, but they were also much healthier than today's products because they used far fewer ingredients and chemicals. It's time to return to that. Switch to solid, organic hand soaps, body soaps, shampoos, conditioners, and body lotion with no chemical additives and no plastic packaging.
If you make this swap, you're already a huge step closer to a completely zero waste bathroom.
Soap bars are healthy, plastic-free and incredibly economic.
2. Plastic-free dental care
You can now find sustainable toothpaste or toothbrush tablets in glass jars as well as bamboo toothbrushes and organic dental floss in any well-stocked drugstore.
Sustainable toothpaste and toothbrush.
3. Reusable cotton or hemp makeup removal pads
Reusable pads made of cotton or hemp can be found at any Zero Waste store. They can be washed and reused up to 250 times which saves a lot of waste and ultimately money.
Cotton and hemp makeup removal pads can be used again and again.
4. Biodegradable or reusable cotton swabs
Switch to biodegradable cotton swabs made of cardboard or bamboo, or buy a reusable silicone swab, for example this one by The Last Swab. Might sound weird, but it's easy to clean and perfectly hygienic.
The Last Swab reusable silicone swabs. Photo: ©lastobject.com
5. Zero waste shaving
No more plastic. A stainless steel or bamboo razor is a staple in a zero waste bathroom. It will last for decades, and the steel razor blades, while not as comfortable or moisturizing, are incredibly cheap and 100 percent recyclable. You can find more options about how to shave waste-free here.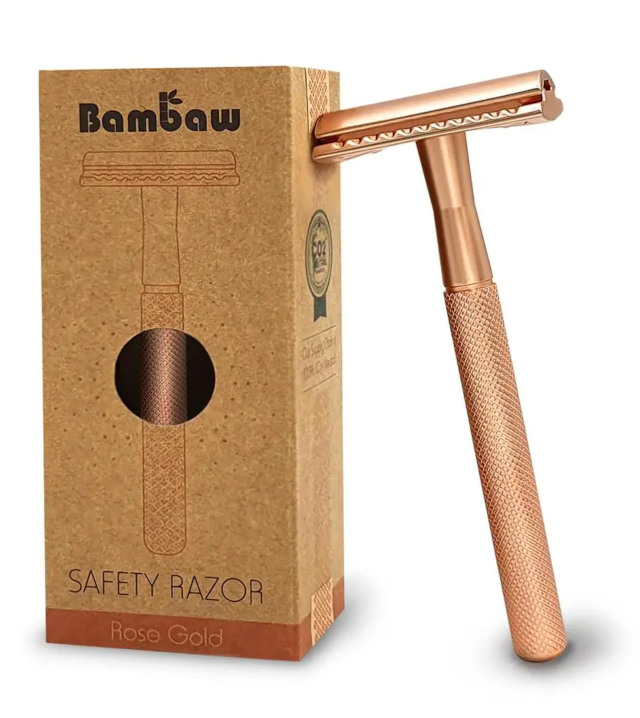 A high-quality bamboo or metal razor. Photo: ©bambaw.com
6. Natural, aluminum-free deodorant
It's important that your deodorant doesn't contain aluminum or otherwise harmful substances. Choose organic deodorants that contain only natural ingredients like waxes and oils. Most even come in plastic-free, reusable tin cans. And the best thing - they work!
7. Organic facial cream and cosmetics
Natural cosmetics are made from 100% natural ingredients and do not contain chemical additives or palm oil, nor were they tested on animals. In addition, most have replaced plastic packaging with glass jars. If you want to know more, check out my blog post about the best zero-waste skincare brands.
8. Alternative monthly hygiene
You wouldn't believe how many chemicals are hiding in tampons. Fortunately, there are now plastic-free, reusable, zero-waste alternatives to disposable female hygiene. Depending on your individual needs and preferences, you can choose between washable cloth pads, panties, organic tampons, or menstrual cups.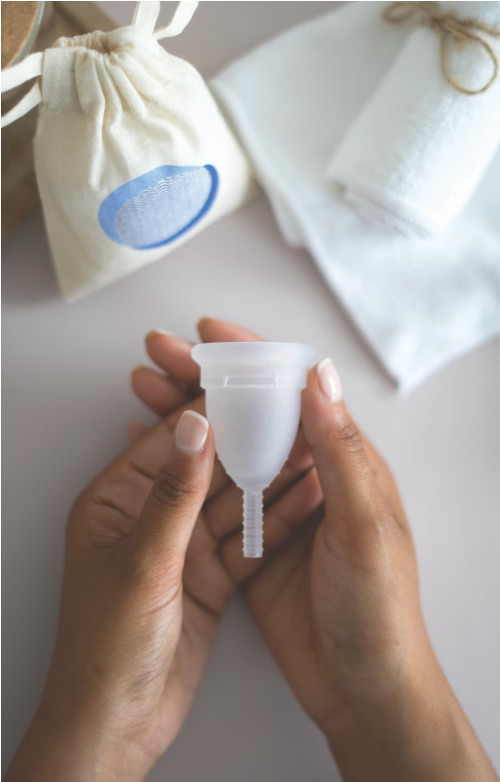 A mentrual cup is a plastic-free, reusable, zero-waste alternative.
9. Organic towels
Consider buying organic towels made from certified FairTrade organic cotton or hemp. Hemp in particular is one of the most sustainable plants, requiring less water than cotton and no chemicals.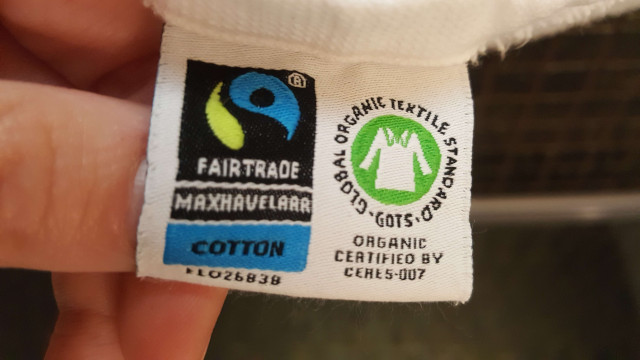 Look for FairTrade-certified organic cotton towels. Photo: ©Seasandstraws
10. Sustainable cleaning products
Biodegradable cleaning products in plastic-free packaging are a huge step towards reducing your ecological footprint. Zero Waste stores offer cleaning products for every surface in bulk. Just bring your old container and fill it up with the product you need. Many of these agents are also made from natural ingredients and contain no surfactants, fragrances, or preservatives. This not only protects your health, but also the environment.
Have a look at this list of plastic-free cleaning products.
By the way, it's also really easy to make your own all-purpose cleaner. :-)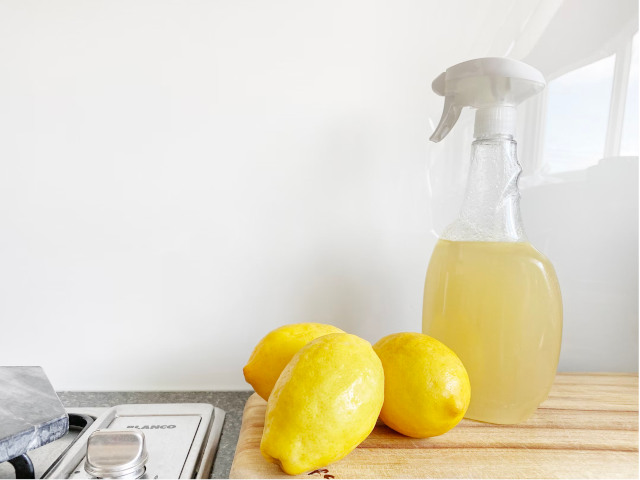 You can also easily make your own multi-purpose cleaner.
11. Eco-friendly laundry detergent
Conventional detergents, like cleaning products, are full of chemicals that end up on your skin and in the wastewater. Fortunately, there are various eco-friendly alternatives: You can look for ecological, degradable detergents in cardboard boxes. Alternatively, you can also use the refill service at your local zero waste store (see above). And lastly, why not give soap nuts a try? They are the fruits of a small tree, so completely natural and organic. No chemicals, no packaging - perfect for a zero waste bathroom. :-)
Soap nuts are a completely natural alternative to conventional laundry detergent.
12. Recycled toilet paper
Did you know that most toilet paper comes from rainforest trees? Fortunately, there are eco-friendly alternatives. Next time you shop, make sure you buy toilet paper made from 100% recycled paper or, better yet, from responsibly sourced bamboo. Check out Cloud Paper.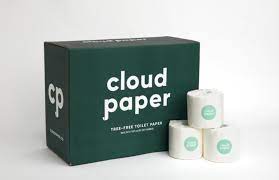 Cloud paper makes toilet paper from fast-growing, sustainable bamboo. Photo: ©cloudpaper.co
13. Toilet brushes made of wood or silicone
In a zero waste bathroom, you even need to take a close look at your toilet brush. Our toilet brushes are  usually made of plastic with plastic bristles. More sustainable toilet brushes are made of wood with replaceable brush heads. There are also brushes made of silicone that last a very long time with proper care.
---
Want to go plastic-free but don't know where to start? Feeling overwhelmed? Then get Your Weekly Planner Plastic-Free Through The Year - Week by week to a life without plastic.