Eco-Friendly Gifts for Kids
eco-friendly, plastic-free, non-toxic gifts for kids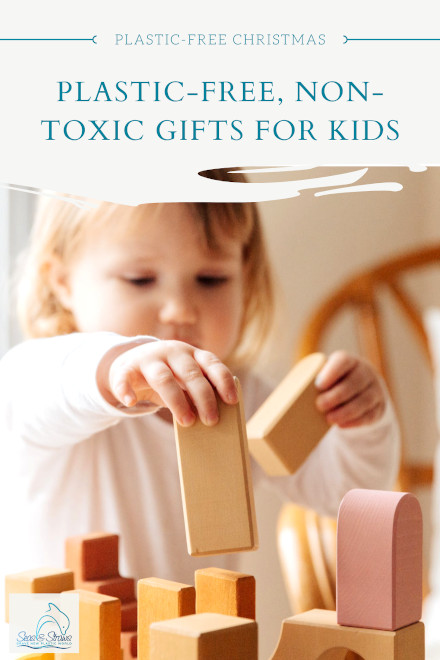 Our children are the dearest thing in the world to us. We would do anything for them and we want to protect them at all costs. So it's all the more amazing that most people don't think twice when it comes to buying toys for their little ones.

Every time I visit my niece, nephew and goddaughter (and her twin brother), I see them playing with tons of plastic toys. And whenever I go to a toy store looking for a gift for them, I see rows and rows of plastic.
So, what do I buy? Toys? Sure, but please eco-friendly and not made of plastic. However, plastic-free toys are not easy to get. Today, almost every toy is made of plastic, and there is a reason for this: plastic is cheap, lightweight, colorful and almost unbreakable. The dangers for children are not pointed out: Plastic contains a vast number of toxic ingredients and chemicals that are harmful to our children. Especially for younger kids, who tend to put everything in their mouths, chemicals can be very dangerous. What is even worse, although our children are much more susceptible to these chemicals than we adults, children's toys are particularly contaminated, especially if they come from China (and what doesn't come from China these days?).
Not to mention the long-term effects on the environment. 
So plastic-free, eco-friendly gifts are a must for our kids, and to help you make the right choice this year, here are a few suggestions.
If you are looking for a healthy, sustainable alternative to plastic, the first choice is always wood, preferably untreated. Wood is natural, completely non-toxic, virtually unbreakable and lasts forever. And when it has reached the end of its useful life, it is recyclable. Maybe you still have old wooden toys like dolls, trains, tools or zoo animals from your parents or grandparents in your attic. Provided they have not been treated with paint, they will surely still look almost as good as new.
And with this we are already at the 2nd tip: Buy used or upcycled toys. Believe me, the kids don't care (up to a certain age) if the toys are new or used as long as they are new to them. Children do not yet have the possessive, materialistic thinking that we have, and used toys are a wonderful way to escape the consumerism that dominates us adults. Of course, this becomes more difficult the older they get, and from a certain age on they have very detailed ideas about which toys should be under the tree. Then it is time to get creative.

1. A healthy, sustainable Lego alternative
Some large companies have already jumped on the sustainability train and offer environmentally friendly alternatives. Not all of them are healthier for your child, so you have to make a choice. For example, if Junior's wish list says "Lego" loud and clear, you can either choose building blocks made from recycled plastic or bioplastics. Yes, they are still plastic, and still unhealthy, but at least you don't have a hand in making new plastic from crude oil and you save used plastic from going to landfill. Or, you can decide to neglect the cool brand name and go for one of the great plastic-free, toxin-free, sustainable alternatives to the good old Lego.
Mokulock is a Japanese company that, similar to Lego, makes stackable building blocks, but completely out of wood. Each set consists of 6 different types of wood (Japanese Cherry, Japanese Zelkova, Japanese Magnolia, Birch, Hornbeam, and Maple), all of which come exclusively from the company's surrounding forests and have only been cut down for thinning purposes. The wooden blocks are untreated and contain no oil, glue or chemicals. For this Mokulock even won the Eco-Excellence Award 2019 for TOY. By the way, a very similar company, BiOBUDDi, won the Award 2018, which is also worth a Google search.
Mokulock is the ecological alternative to plastic Lego-blocks. Photo: ©mokulock.biz
2. A book Subscription
Is your kid a bookworm? I was, and had there been children's book clubs back then, I would have been thrilled. Today there are several such clubs, for example Kid Curated Books, Our Little Book Club, or My First Reading Club. Becoming a member is easy, just enter your child's age, reading level and interests, and each month you will receive a lovely box of 3 - 4 books tailored to your child. I love!!!!
A box full of reading fun. Photo: ©kidcuratedbooks.com
Speaking of books. How about giving books that teach them about the environment? There is a lot to learn about our world and the dangers it faces, for example, from plastic pollution or climate change. The list is long, and you can never start early enough (in a fun way, of course).

3. Time together: a box of seeds
Children love to spend time with mum and dad, especially outdoors. So give them the gift of time together and wrap it in a nice present. If you have a garden, a box of seeds for a wildflower or a bee meadow is perfect for teaching your kids valuable knowledge about nature, plants, and animals like bees and insects (by the way, wild bees don't sting, so no worries there).
Somewhat more practical is the Funky Veg Kit by Plant Theatre. With this kit you can teach the kids to grow purple carrots, striped tomatoes and mixed chard and later prepare and eat them together.
Colourful fun in the garden: The Funky Veg Kid. Photo: ©plant-theatre.co.uk
4. Time Together: Wood Carving
Here is another suggestion in the category "spending time together": carve a bow and arrow with your son (or daughter). It doesn't require a lot of material. You can buy child-friendly carving tools online, for example the Opinel's Outdoor Junior Knife or a complete kids' carving kit from Amazon. Start with small branches of soft wood and improve your skills. Hours of fun together are guaranteed.

5. A zero waste blackboard and chalk
Your kids like to draw (who doesn't)? Get them a blackboard and colorful chalk. The chalk is not dangerous and can be wiped off again and again. Blackboards come in many different sizes, from paperback to whiteboard. The kids can let off steam (creatively), take it anywhere they go and save many trees in the process. This is so much better than plastic pens and coloring books made of paper: 100% zero waste, reusable, durable and sustainable. 

6. Fun memberships
Who says that gifts for kids must always be material? Memberships for the local zoo, the natural history museum or children's museum are inexpensive, but kids love them! It gives them (and you) a reason to get out of the house and there is always something new to discover there.

7. A Fair Trade toy
Do something good while you give your little one a present. Weaving Hope produces hand-woven, eco-friendly toys by women artists from Sri Lanka. The bright, colorful gifts are fair trade and support the local community.

The Polar Play Set. Photo: ©weavinghope.uk
Questions, comments, ideas?
That's it. Hope you enjoyed my plastic-free, eco-friendly gift ideas for children. 
If you have questions, comments or more ideas on plastic-free, heathy gifts, don't hesitate to contact me. I'm happy to talk to you. 
Don't forget to sign up for my monthly newsletter for more ideas on sustainable, eco-friendly alternatives to plastic.
Pin it!