Natural zero waste products made from coconut, bamboo or wood
I am proud to announce that Seas & Straws has partnered with Jungle Culture to bring you 100% natural and untreated products that will be a showstopper on any table or at any garden party.
Jungle Culture, a small brand based in the UK, work with farmers and artisans in Vietnam to produce unique, natural and environmentally friendly products that give back to the small communities that helped create them. They ensure their products are ethically sourced and made from 100% natural, organic and chemical-free coconut shells, bamboo stalks, and reclaimed wood.
Discover the natural and sustainable way to enjoy your meals with these wonderful bowls, drinking cups, straws, cutlery sets and candles.
coconut bowls
Handmade from real coconuts and 100% natural, organic and chemical free, these bowls are the perfect eco-friendly choice for any kitchen.
Not only are these bowls great for making healthy acai bowls, scrumptious smoothie bowls and delicious ramen, but they also make fantastic vegan-friendly gifts.
Our coconut bowls are beautiful, unique, and as sustainable as they come. They are made from natural materials and are fully biodegradable and compostable, making them a great investment for anyone looking to reduce their waste.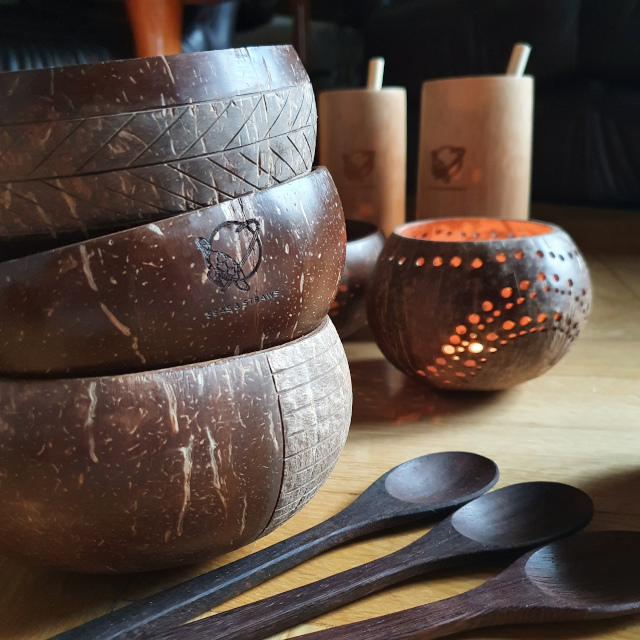 Natural Bamboo or wooden Cutlery Set
Make eating on-the-go sustainable and stylish with these bamboo or wooden cutlery sets.
Ethically sourced and handmade in Vietnam by skilled artisans, each set comes with a serrated knife, sturdy fork, tablespoon, and even a bamboo straw and cleaning brush.
The entire zero waste flatware set is organic and natural, packaged in a chic jute presentation bag in three different colors.
Perfect for gifting to anyone looking to reduce their environmental impact.
Lightweight and portable, these bamboo utensil sets easily fold to fit in your bag or pocket, making them the ideal plastic-free alternative for eating on-the-go, picnics, and takeaways.
Say goodbye to disposable plastic cutlery and hello to sustainable and stylish dining bamboo cutlery sets.
The utensils are available as light colored bamboo or dark colored reclaimed wood.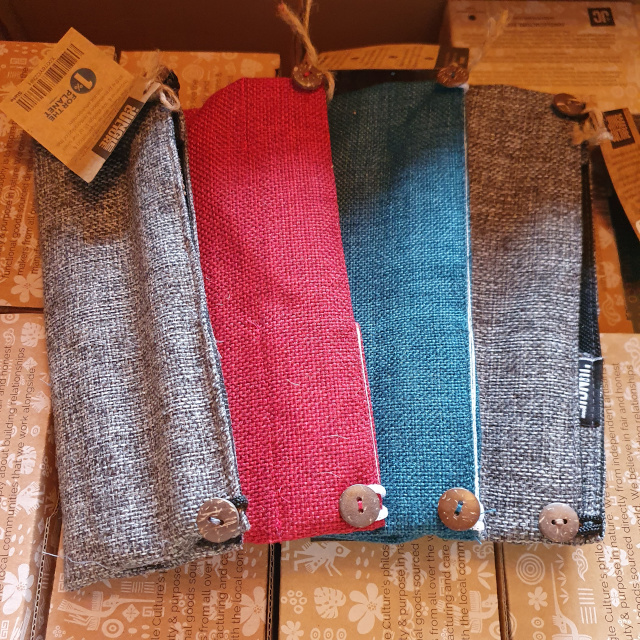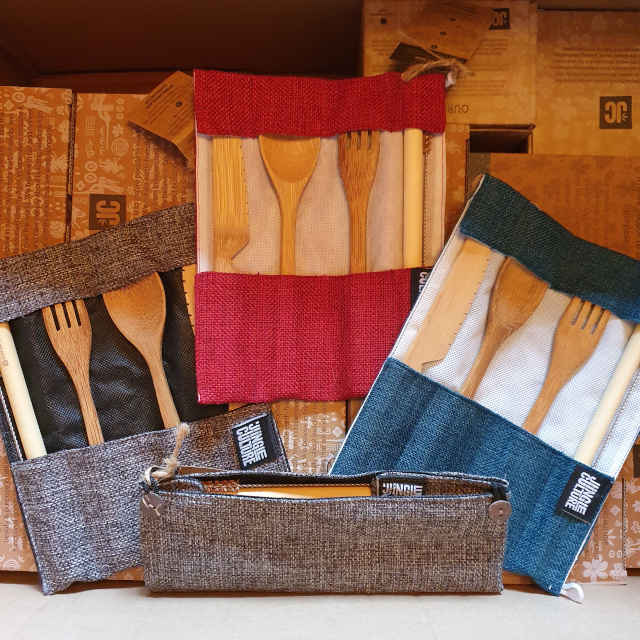 Natural Bamboo Drinking Cups

Upgrade your beverage game with these handmade bamboo drinking cups, perfect for your morning smoothie or tropical cocktail.
Each cup is crafted from a single piece of organic bamboo, ensuring a unique and durable design that's perfect for daily use.
Pair your bamboo cup with a zero-waste bamboo drinking straw (both engraved with the Seas & Straws logo) to elevate your eco-friendly drinking game and bring a beachy vibe to your home.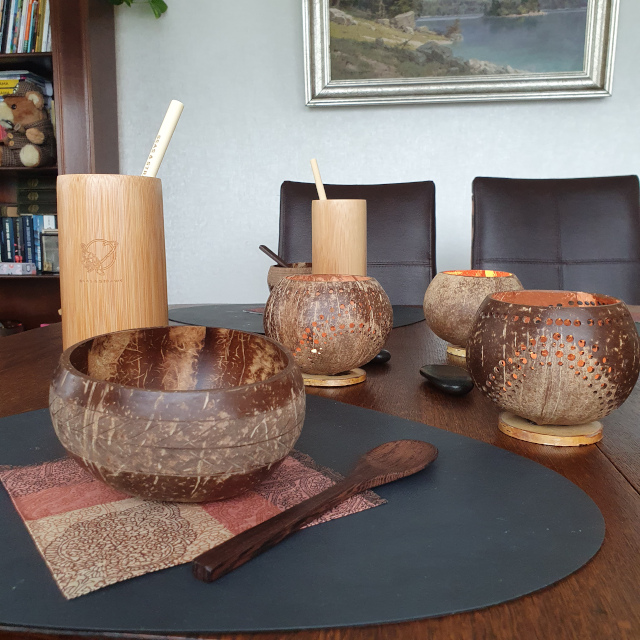 Natural Bamboo Drinking Straws- Set of 6
Make the switch to sustainable living with Jungle Straws, the perfect eco-friendly alternative to plastic straws.

Crafted by skilled artisans in rural Vietnam, our reusable bamboo straws are not only environmentally friendly but also stylish and long-lasting.
This set of 6 hand-crafted bamboo straws and a cleaning brush is perfect for enjoying your favorite drinks, from smoothies to cocktails, while reducing your carbon footprint.
Plus, you can complete the aesthetic by pairing them with one of our bamboo or wooden cups.
The bamboo straws are engraved with the Seas & Straws lettering, making them the perfect plastic-free alternative to traditional straws.
Join us in the fight against plastic waste and invest in a better future for our planet.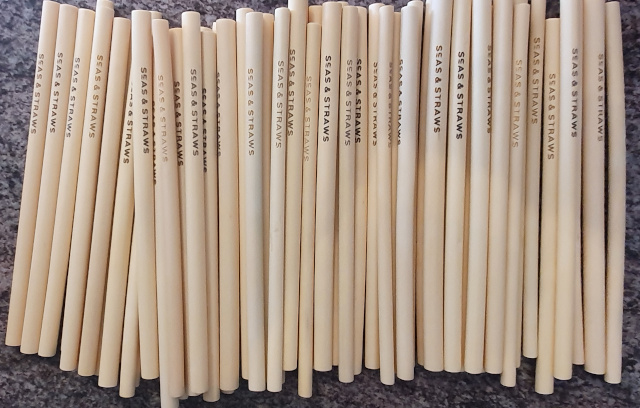 Coconut Shell Candle
Bring the beach into your home with our toasted coconut scented candle.

With its subtle and creamy aroma, it provides a relaxing and soothing atmosphere that will transport you back to your favorite beach vacation spot.
Our candles are eco-friendly, vegan-friendly, and ethically sourced. Hand poured using organic soy wax infused with essential oils, every ingredient is planet-friendly and sustainable.
The set contains a coconut-scented candle that burns for 45-50 hours, an organic cotton gift bag, and a printed kraft paper box.
Perfect for a gift or for treating yourself to a luxurious and guilt-free self-care experience.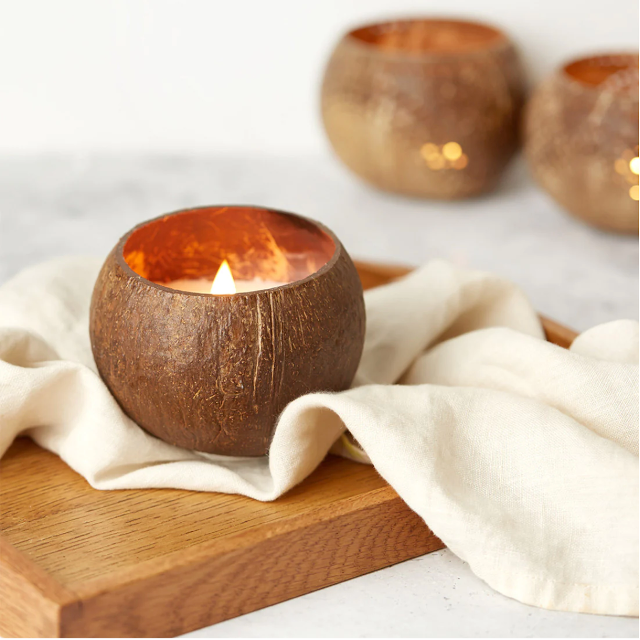 Coconut Shell Tea Light Holder Set
Create a warm and soothing atmosphere with these handcrafted coconut shell tea light holders.
Each holder is made using 100% eco-friendly, natural and organic coconuts, giving your home or event a unique touch that's both stylish and sustainable.
The beautiful tea light holders help prevent excess coconut shells from being burned, providing a much needed secondary income for local farmers and craftspeople in rural Vietnam. Use multiple holders to create a symmetrical lantern effect and bring a warm glow to any space.
They make the perfect gift for anyone who loves the beach or wants to add a touch of nature to their home.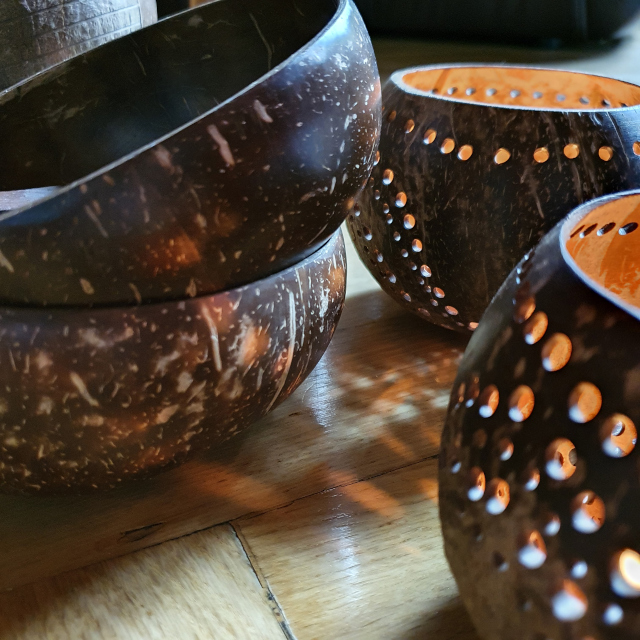 Shop now!
You can  get all of these products (except for the tea light holder set) engraved with my Seas & Straws logo or lettering. If you do not wish to receive an engraved product, please send me an email after ordering at jana@seasandstraws.com
Order now and join the movement towards a greener planet!
---
Do you like your coconut, bamboo or wood Product?
Then send me a photo of your table decoration or setting!