Starbucks preaches sustainability, IKEA acts

On Monday, Starbucks made sustainability headlines with a well-timed announcement. By 2020, the coffee chain giant will stop using disposable plastic straws in all of its 28,000 stores worldwide.
As expected, the announcement was met with universal praise and gushing. "Today, I am thrilled to celebrate Starbucks' bold leadership for Clean Seas with its commitment to phase out its plastic straws by 2020," actor Adrian Grenier said in a press release.
And Kevin Johnson, president and CEO of Starbucks, said: "For our partners and customers, this is a significant milestone to achieve our global aspiration of sustainable coffee, served to our customers in more sustainable ways."
Is their solution truly more sustainable, though?
Why Starbucks focuses on straws
Straws have been the focus of public campaigns against plastic worldwide, ever since a marine biologist posted a video on YouTube that showed her removing a straw from a turtle's nostril. The video was clicked 30 million times and caused a public outcry. You can watch it here.
5 million straws are used every day in the US alone. While they are made of Polypropylene and are usually recyclable, they are mostly not, simply because they are so lightweight and small that they either get blown out of bins or fall through the sorting system at the recycling facilities. In landfills and in the ocean, they need 200 years to decompose, breaking down into small pieces and harming marine life along the way.
An estimated 9 million straws are removed from beaches every year.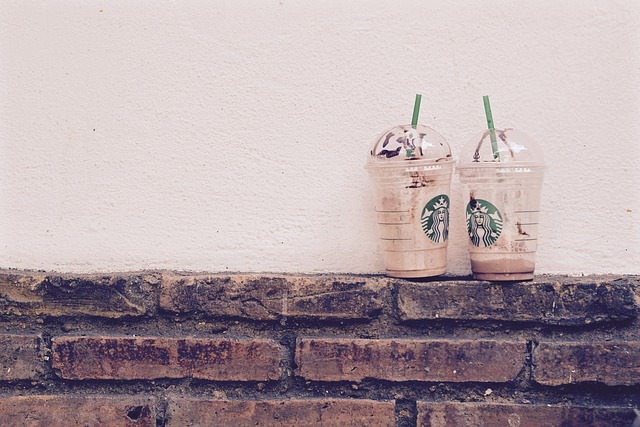 No plastic straws with your Starbucks coffee anymore
Why Starbucks is doing it wrong
By removing straws from their inventory, Starbucks heeds public demands to reduce its use of disposable plastics.
And that's good, don't get me wrong. The project will eliminate more than 1 billion straws per year (yes, that's the company's yearly consumption figure!). Only the Frappucchino will come with a straw made from either paper or compostable plastic.
For all other drinks, the straws will be substituted with a sippy-cup like lid similar to what toddlers use.
The problem is that this new lid is not only made of plastic as well, it is also slightly heavier than the current one, suggesting that more plastic is used. So to be clear, Starbucks is substituting the current plastic lid and straw with another plastic lid that uses even more plastic.
Where is the sustainability in that?

The coffee chain claims that "by nature, the straw isn't recyclable and the lid is, so we feel this decision is more sustainable and more socially responsible," said Chris Milne, director of packaging sourcing for Starbucks.
It's good that the lid is recyclable, but so are plastic bottles, and they keep ending up in our oceans. Why? Because only 9% of all recyclable material actually gets recycled. The rest, an incredible 91%, ends up in landfills, even though it should not. Starbucks seem to believe that 100% of their newly designed lids will find their way to the recycling facilities, but that's simply not true.
In a time where the impact of plastics on the oceans becomes more and more obvious, Starbucks' announcement looks like "a way to channel some easy PR from the growing anti-straw movement, rather than a meaningful sustainability initiative," assumes the Guardian.
I agree.
It does not make sense to substitute the plastic we currently use by even more plastic. Instead, we should find sustainable and biodegradable solutions that do not harm our planet further.
This is what IKEA does. 
Why IKEA is doing it right
By 2020 IKEA will ban ALL single-use plastics from its stores and restaurants. 

The Swedish furniture company will stop selling plastic straws, plates, cups, freezer bags and plastic-coated paper plates in all of its stores.


It will stop giving out single-use straws, cups, plates, cutlery drink stirrers and plastic containers in all customer and staff restaurants.


And it will completely overhaul its manufacturing processes so that only renewable and recycled materials are used. It even invested in a plastics recycling plant. 

But that's not all by a long shot


IKEA aims at purchasing only 100% renewable energy by 2020 and


make home deliveries zero emmision by 2025.


It will expand its offer of affordable home solar panels to 29 Ikea markets.
All IKEA products will soon come from renewable or recycled materials
In the long run, the company wants to reduce its total climate footprint by an average of 70 percent per product and become completely "planet positive" by 2030.
"Becoming truly circular means meeting people's changing lifestyles, prolonging the life of products and materials and using resources in a smarter way. To make this a reality, we will design all products from the very beginning to be repurposed, repaired, reused, resold and recycled", says Lena Pripp-Kovac, Sustainability Manager, in a press release.
Oh, and they will offer more plant-based food alternatives and less meat.
This is how you do it! Good job, IKEA!
---