These new coffee cups
are made
from coffee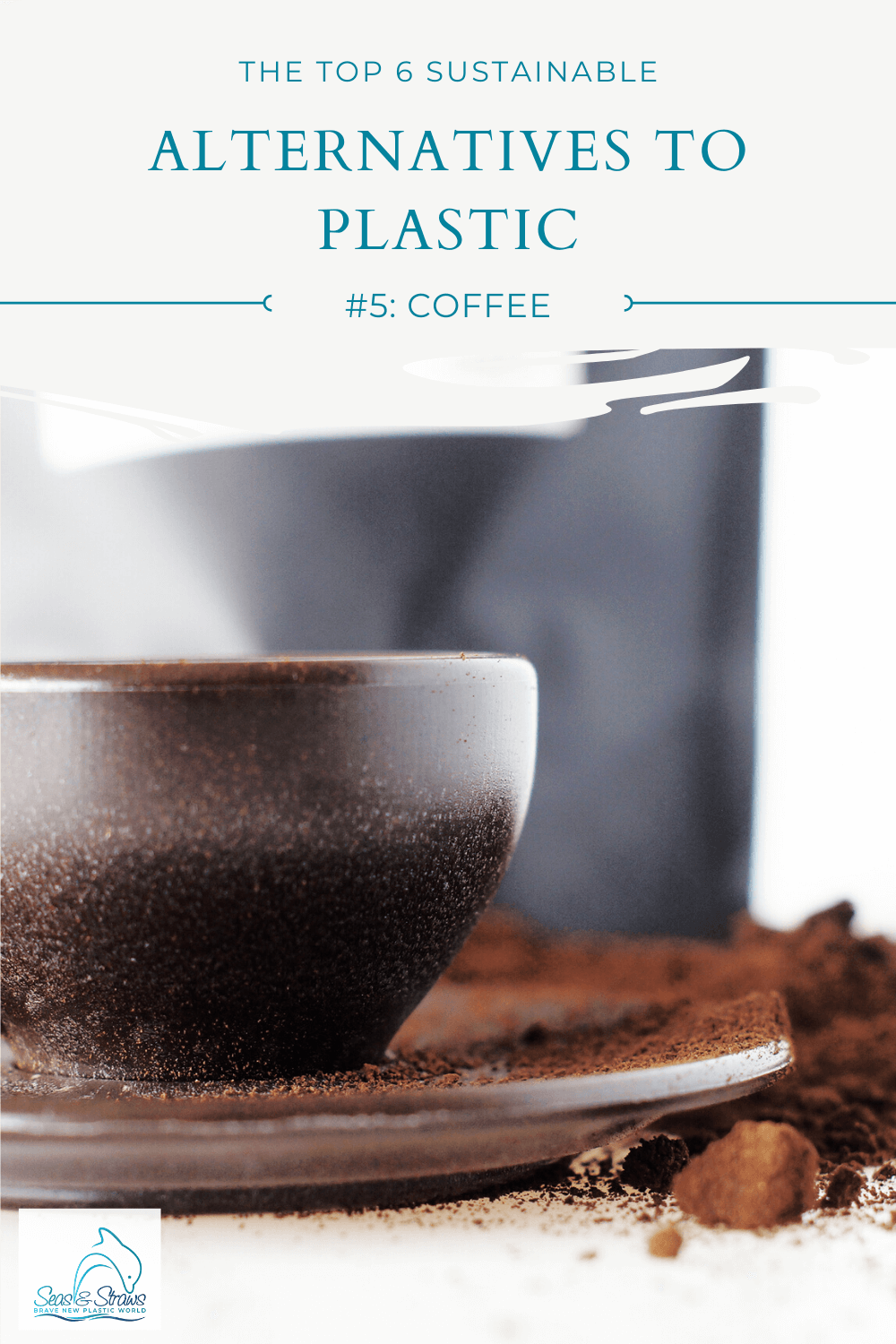 Do you love the smell of coffee in the morning? Is the dark beverage your most important meal of the day and your reason to get out of bed? If so, read on, because I have wonderful news for you.
Coffee is much more than just your favourite drink in the morning. In fact, the used coffee grounds are a precious resource that can be recycled and made into cool new products. 
There is a company called Re-Worked that makes furniture from coffee waste and recycled plastics. 
A Taiwanese clothing company makes recycled coffee grounds into odor-neutralizing sportswear which also dries fast and protects against UV. 
And the German startup company Kaffeeform created a series of coffee and espresso cups entirely from recycled coffee grounds. Yes, you heard that right - a coffee cup made of coffee.
Impossible, you say? Here it is.
The beginnings
German student Julian Lechner invented this cup in 2012 when he studied product design in Italy, the home of coffee lovers. During his time of intense coffee consumption, he became aware of the enormous quantities of used coffee grounds that were dumped every day. There must be a way to re-use this prescious resource, he thought.
3 years and a lot of trial and error later, the concept was finalized and Kaffeeform was born.
At the moment, the company produces three sizes:
The espresso cup and saucer
The larger cappuccino cup and saucer and
The new Weducer travel mug
More designs and products are in the making.
To me, of course, the Weducer to-go cups are of special interest, because they are not only beautiful and unique but also lightweight enough to be carried in my handbag and taken to the coffee shop. There is yet another stylish reason to say goodbye to non-recyclable, single-use coffee cups.
How are the coffee cups made?
The compound consists indeed of 40% ground coffee beans.
Disabled people from a sheltered workshop in Berlin collect the waste material from local coffee shops in walking distance. They then dry the ground beans in small ovens and blend them with plant fibres, beech wood grains, starch, natural resins, waxes, oils and organic biopolymers.

The exact recipe is a secret, so I can't tell you which biopolymers are used, but all ingredients are completely natural and renewable. The compound itself was tested and approved by an independent testing institute.
It's free from BPA, phthalates, petrochemicals and all the other things that make plastics so bad for you. No plastic, no toxic chemicals, no waste.
Six cups of coffee grounds are needed to produce one espresso set.
The finished product is resilient and long-lasting. Since it's such a new invention, no-one really knows how long exactly the cups will last, but they are designed to have a life cycle of at least 10 years.
The look
Every Kaffeeform product looks like it comes directly from the earth. Seriously.
The material is a dark brown speckled with lighter parts which seem to be wood grains. As with every truly natural product, no two cups look the same. 

When used excessively (like in a coffee shop), the surface seems to develop a light patina which is completely harmless and gives it an even more unique look.
Are there different colors? Nope, the they don't come in fancy colours like the bamboo cups that I reviewed here. But who needs colors when you have such a unique and elegant design as this? I think they look absolutely beautiful.

The feel
The cups have a marblewood appearance. They feel earthy and natural, yet smooth to the touch.
The Weducer travel mug has a grooved surface to improve grip. It does not need an isolating silicone sleeve, as the material itself possesses highly isolating properties and will keep your fingers cool. 
Be warned, though, that the drinking hole is not sealable, so the cup is not spill-proof.
All items are also very lightweight and perfect for carrying in your handbag or backpack. You can take the Weducer travel mug on a weekend trip or to your favourite coffee shop.
In fact, coffee shops love the new coffee-made cups because they are much lighter than the common porcelain and do not break when they fall. Did you know that 3 to 5 cups break during a normal coffee shop day? They end up in the bin and have to be replaced which not only generates unnecessary waste but also becomes quite expensive. As the Kaffeeform cups and saucers last much longer, they contribute to a circular and more sustainable lifestyle.
The smell
That heavenly smell!!
Before you even used it for the first time, the Kaffeeform mug smells like coffee! The smell will dissipate after three or four uses (unfortunately), but if you are a tea drinker and you don't like your tea to smell of coffee, you should wait until it is completely gone.

The packaging
In true eco fashion, the package is made of 100% cardboard, no plastic in sight.

Are they dishwasher and microwave safe?
The cups are not microwave safe but they are dishwasher safe.
Various coffee shops all over Europe as well as the US, Korea and Japan already use the Kaffeeform products, so they must be resilient enough to survive several dishwasher cycles a day.
Are they biodegradable?
All materials are renewable and completely biodegradable. No chemical additives are used in the production process. You can dispose of the cups with the usual household waste or recycle them. 
What do
I think
?
I really love the idea of drinking coffee out of recycled coffee. I like the look and the feel of it. It is robust and so light that I can carry it in my bag whenever I plan to get a coffee from the shop around the corner.
And, of course, there is the smell! It smells deliciously of my favourite beverage.
All Kaffeeform products, but especially the Weducer coffee mug are beautiful, natural and absolutely unique.
With the Weducer in your hands, you will definitely turn heads on the street!

You can buy your Weducer coffee mug here. 
---
* I did not receive any money or payment in kind from the company. I wrote this article because I believe that the product is a fantastic invention, would be of interest to my readers and can help substitute single-use coffee-to-go cups with natural, sustainable alternatives. The company did supply me with the pictures, though.