In the issue: Sustainable travel activities & tours, waste management, guilt-free sustainable coffee experience, environmental-friendly vacation spot or paradise

Hi!
Welcome to the latest edition of Spotlight! As we step into August, let's seize the opportunity to contribute positively to our environment and make a lasting impact.
Are you ready to be inspired? The featured blog posts are packed with inspiring stories and insightful tips on sustainability for hotels. But let's not forget, we all have a responsibility to take care of our planet. That's why this newsletter is for you too! So, let's get started!

---
SUSTAINABLE TRAVEL ACTIVITIES & FOOD
Vacations are all about unwinding and treating yourself, but why not spice things up with some exciting adventures? Instead of just lounging by the pool, you can immerse yourself in sustainable activities and food experiences that foster a meaningful connection to the places you'll be visiting.
Read the last part of this 3-post blog series here:
Sustainable Travel Activities, part 3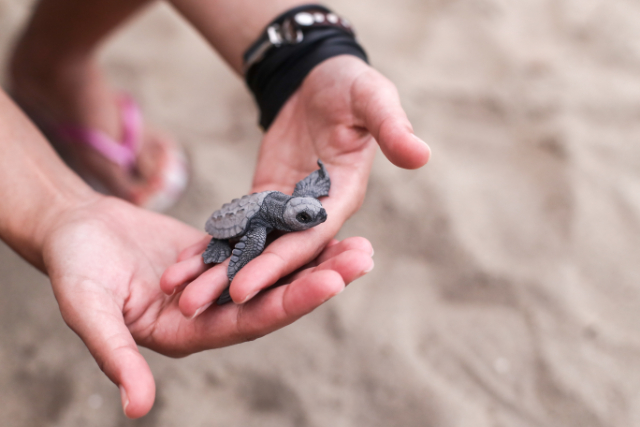 ---
TAKING THE LEAD: A GUIDE TO SUSTAINABLE WASTE MANAGEMENT IN HOTELS
The truth is, trash is everywhere - whether you look for it or not. That's why I've prepared a practical guide to help you take steps towards better waste management in your home, office, or hotel. Let's all work and walk the "trash talk"!
Read more here: Sustainable Waste Management in Hotels

---
SIP RESPONSIBLY: HOW TO ELEVATE THE COFFEE EXPERIENCE IN YOUR HOTEL
Ah, the heavenly aroma of freshly brewed coffee is pure bliss, right? But what if I told you that your daily cup might be leaving a not-so-joyful impact on the environment? Don't worry, I've spilled the (coffee) on how you can still enjoy your favorite brew guilt-free with a dash of sustainability!
Read more here: Sip Responsibly: Elevate your Coffee Experience

---
UNVEILING THE ENCHANTING SECRETS OF CAYO LOCO ELEUTHERA, THE BAHAMAS: AN EXCLUSIVE INTERVIEW
Now, if you're on the lookout for your next dream vacation spot or in need of a serious dose of sustainability inspiration, I've got something extraordinary for you!
Meet Cayo Loco Eleuthera, the eco-retreat that's redefining paradise!


I've virtually sat down with the visionaries behind this paradise to bring you their incredible story. Be inspired as they share their vision and sustainable practices that have earned them global recognition, including a special feature on Netflix's "World's Most Amazing Vacation Rentals."
Read the full interview here: Cayo Loco Eleuthera: The Interview

---
Wait, there's more!
CORONA ISLAND: A CASE STUDY
"Corona" might have a particular association in recent times, but I'm talking about something entirely different! Dive deep into the captivating story of Corona Island, where sustainability meets hospitality in a match made in eco-heaven. Brace yourself for stories of innovation, eco-consciousness, and how their partnership with Oceanic Global is leaving a positive impact on our oceans and planet.

Read more here: Corona Island: A Case Study

---
FOR HOTELS
83% of guests now prioritize eco-friendly accommodations. Is your hotel meeting their expectations?
Discover the potential of going plastic-free with my FREE e-book "Sustainability Sells!". Inside this e-book, you will learn how reducing single-use plastics in your daily operations is the most impactful way to save money, attract the eco-conscious, high-paying traveler and double your profits.
Download Now!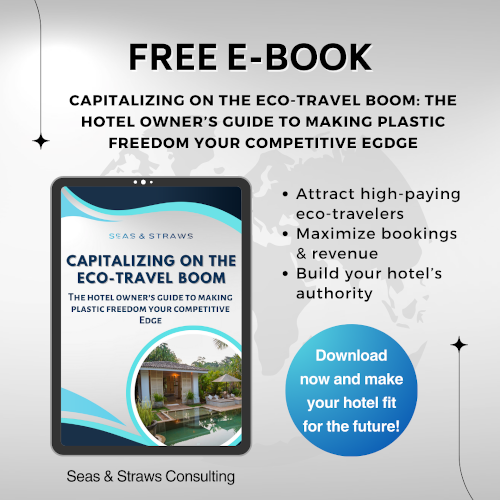 ---


"The greatest threat to our planet is the belief that someone else will save it."
- Robert Swan -
---
I'd love to hear from you!
I'd love to hear from you! Your thoughts matter to me! Share feedback, ideas, and topics you'd like me to explore by replying to this newsletter.
If you enjoy this newsletter, "pay it forward" by sharing it with friends. Let's spread the love for the ocean!
If a friend DID forward this to you and if you like what you read, please subscribe by visiting my website: www.seasandstraws.com
Thanks for being part of Seas and Straws. See you next month!