In the issue: How to have an eco-friendly Christmas; Plastic free, non-toxic gifts for children; Did you know that...

Hi,
how are you today?
As soon as Halloween and Thanksgiving are over, we begin preparations for the Christmas season. I love Christmas! It is a time of calm, peace and reflection. But unfortunately also of abundance and waste. With the food, with the decoration, with the presents. Figures show that during the Christmas season 30% more waste is produced than in the rest of the year. It seems that during this time we turn off our ecological mind.
But is this necessary? Can't we make Christmas as eco-friendly as the other days? I think so. Here are some suggestions:

1. The tree
How about a living tree in a pot? It always makes me sad to see these beautiful, majestic things wither away, so a living tree is a much better alternative. There are even Christmas trees for rent. These will be delivered to you in time for the festive season and picked up again after it's over. During the year, they are taken care of and you can get the same tree back next Christmas.
Isn't that a great idea?

2. Decoration
You can make your own, eco-friendly decoration for the table or the Christmas tree. All you need are a few fir branches, pine cones, orange slices, cinnamon, cloves, etc. It doesn't only look beautiful, but also smells divine. :-)

3. Food
There is no way around food at Christmas, but we can pay attention to where we get our Christmas roast and vegetables. Meat and veggies should be bought from your farmer or the local farmer's market. That way, you know where it comes from and you can be sure that the animal has been treated well (I hope). Also, things are wrapped in much less plastic there than in the supermarket.

---
Plastic free, non-toxic gifts for children

Our children are the dearest thing in the world to us. We would do anything for them and we want to protect them at all costs. So it's all the more amazing that most people don't think twice when it comes to buying toys for their little ones.
Every time I visit my niece, nephew and goddaughter (and her twin brother), I see them playing with tons of plastic toys. And whenever I go to a toy store looking for a gift for them, I see rows and rows of plastic.
But plastic is anything but harmless. It contains a vast number of toxic ingredients and chemicals that are harmful to our children. Especially for younger children, who tend to put everything in their mouths, plastic can be very dangerous. What is even worse, although our children are much more susceptible to these chemicals than we adults, children's toys are particularly contaminated, especially if they come from China (and what doesn't come from China these days?).
That's why this year, plastic-free gifts for our little ones are a must, and so that you don't have to search as long as I did, I've put together an comprehensible list of beautiful gifts for you. In my blog article you will find not only material gifts, but also immaterial gifts like shared time and adventures. Because for your little ones it is still the greatest thing to spend time together with mom and dad.
Click here to read more about eco-friendly, non-toxic gifts for kids

---
Did you know that ...
... conventional wrapping paper is lined with plastic and cannot be recycled? Worse still, it often has glitter on it, which is nothing more than tiny pieces of plastic (microplastic) that are rubbed off the paper and often end up in nature and in the oceans. Animals then ingest them and collect them in their stomachs where they accumulate until the animal finally dies.
Now, that's quite a lot of drawbacks for something that is used for 60 seconds and then torn to shreds.
This year, try to avoid new wrapping paper. Wrap your gifts, for instance, in old newspaper, butcher's paper, cloth or a scarf (which becomes part of the gift). Use plastic-free, biodegradable, paper-based tape. Decorate with twine, tree bark, pine cones, cinnamon or dried oranges. There are more than enough eco-friendly possibilities out there, just be a little creative.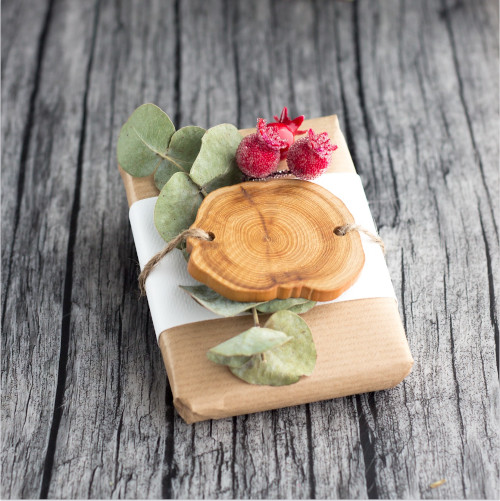 ---
I'd love to hear from you!
Comments? Feedback? Ideas about topics I should write about? I'd love to hear from you. Just reply to this newsletter and tell me what you think!
If you like this newsletter, please do a friend and me a big favor and "pay it forward."
If a friend DID forward this to you and if you like what you read, please subscribe by visiting my website: www.seasandstraws.com
Thank you and see you next month!
Jana